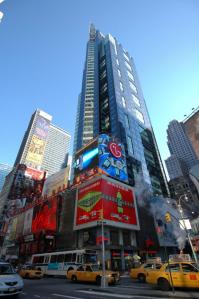 In June, Six Flags, owner of 20 amusement parks (frankly, the notion of willfully getting on machines that simulate death has never much struck us as particularly "amusing") across North America, declared bankruptcy.
This bankruptcy wasn't one of those out-of-the-blue deals. It was what they call a pre-negotiated bankruptcy, the final phase in a plan to restructure Six Flags' troubled finances and unburden itself of a staggering $1.8 billion in debt.
And so, at the time of its June announcement, Six Flags had already hired brokerage Newmark Knight Frank to sort out its New York real estate needs.
Now, one of the beauties of Chapter 11 is that it allows those who seek its protection to sever their leases. GM did it earlier this year, when it terminated its brand-new lease for headquarter space at 601 Lexington Avenue and opted instead to remain in the eponymous GM Building anchored by the Apple Store.
Six Flags is planning to follow in the auto giant's footsteps, according to an industry source, and will likely sever its lease at its current headquarters at 1540 Broadway, the 1.1 million–square–foot tower that deposed real estate king Harry Macklowe turned over to creditor Deutsche Bank, which, in turn, sold it to CB Richard Ellis Investors for a dollar-store $355 million early this year.
Six Flags has occupied about 23,000 square feet at the tower for about four years. It has about six years left on its lease. It's scouting the market for 25,000 square feet, with expansion rights, and is in serious talks with a couple of building owners in the Grand Central submarket.
Matthew Leon, the Newmark Knight Frank senior managing director representing Six Flags, declined to comment for this story. A spokeswoman for Six Flags said the firm was looking to reduce its rent by 25 percent.
drubinstein@observer.com