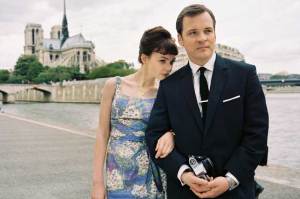 An Education
Running time 100 minutes
Written by Nick Hornby
Directed by Lone Scherfig
Starring Carey Mulligan, Peter Sarsgaard, Alfred Molina, Cara Seymour, Rosamund Pike, Dominic Cooper, Emma Thompson
Riding in on waves of raves from film festivals around the world, the exquisitely made British coming-of-age film An Education features, as its centerpiece, a career-breakthrough performance by newcomer Carey Mulligan reminiscent of Audrey Hepburn's in Roman Holiday. Captivatingly written, directed and acted with sensitivity and nuance, this is one of the best films of the year. It lives up to its title in more ways than one.
Based on a personal memoir by British journalist Lynn Barber, it centers on her teenage experiences in the early 1960s, when she was a bright student cellist in an all-girls school in the Wickenham section of London with her sights set on Oxford. In the film, she is called Jenny, a bright, attractive 16-year-old already drawn to the forbidden Gauloises and depressing Juliette Greco records she hides in her bedroom as part of the hedonistic new postwar permissiveness that is rising all around her. Her strict, bombastic middle-class father (Alfred Molina) and naïve, indulgent mother (Cara Seymour) have big plans for their daughter, but Jenny's goals take a detour one rainy day when she is given a lift home by a dashing older man with tailored tweeds and impeccable manners, Jewish and in his 30s, named David Goldman (Peter Sarsgaard), whose roguish charm infatuates her. Next comes a flower arrangement, a Ravel concert and a bit of late supper—all romantic attentions that can make a vulnerable schoolgirl dizzy. David is a man of the world—suave, erudite, cool, seductive and such a parent pleaser that even Jenny's pompous, demanding father puts aside his suspicions and consents to a weekend trip to Oxford under the pretense of introducing Jenny to her literary idol, C. S. Lewis. It takes some time before Jenny realizes her paramour; his best mate, Danny (Dominic Cooper); and Danny's blousy girlfriend, Helen (Rosamund Pike), are free-wheeling thieves and con artists who stake out old ladies, break into their flats and rob them of their possessions. But the impressionable Jenny is having too much fun to let small, intrusive principles like moral turpitude and high ideals dash her excitement. Soon she's speeding off in a Bristol roadster soaked in French perfume, smoking imported pink cigarettes from Russia, watching films with subtitles, dining in expensive restaurants and dancing in late-night jazz clubs in Soho. Seduced by the glam life and by David, Jenny loses her virginity on her 17th birthday in a hotel room in Paris, where David has taken her under the pretense of being chaperoned by his "Aunt Helen." "All that poetry and all those songs—about something that lasts no time at all," she says the morning after. On the verge of womanhood and jaded overnight, Jenny gives up school and the Oxford entrance exams, to the dismay of her conservative parents and the disapproval of her cold, pragmatic and unforgiving headmistress (Emma Thompson), and prepares to become Mrs. Goldman.
Carefully calibrated by screenwriter Nick Hornby, the stages of Jenny's saga build to a crashing blow when she discovers at last the dark secret her lover conceals, which wakes her from dreams and kicks her cruelly into the brutal reality of daylight. Jenny's "education" leaves her older but hardly wiser when she learns the meaning of the word heartbreak. When Jenny regains her senses, there is nothing left to do but sweep the shards of her wasted emotion into the dust bin and start over, but is it already too late?
This is a film that moves you through several emotional riptides without a trace of artifice. The entire cast is superb, but it is Carey Mulligan who sweeps this picture off its feet. An Education is not her first feature (she had a small role in Michael Mann's Public Enemies and bigger ones in the TV miniseries Bleak House and Pride and Prejudice), but it represents the kind of career-defining break that makes an actor memorable and wins awards. The way Mr. Hornby's screenplay, under the guidance of Danish director Lone Scherfig (Italian for Beginners), gets the times and attitudes right in the dialogue of everyone from Jenny's envious classmates to the guileless insincerity of Mr. Wrong (David even feigns Jewish guilt to win over Jenny's father and get her in the sheets) is invaluable, and I love the attention to detail with which Ms. Scherfig and Mr. Hornby accurately re-create the authenticity of England on the threshold of cultural change and sexual revolution—a time when the pre-Beatles country, like Jenny, was full of innocence and ambition, looking for fun and reckless excitement, and mindless of the consequences. But it is still Ms. Mulligan—a blushing moss rose of a girl in bloom—who personifies the dilemma of a sophisticated, highly educated, beguiling yet immature woman trapped in the unfortunate body of a teenage girl. Like a savory meal too meticulously prepared to wolf down quickly but served in several small but unforgettable courses, it doesn't give you too much at once. An Education is spread out over less than two hours, but rarefied and entirely delectable from start to finish.
rreed@observer.com