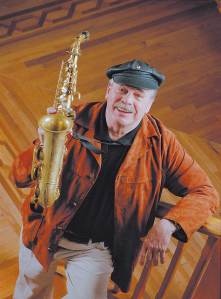 DELAWARE WATER GAP, Pa.—The saxophonist Phil Woods returned from the Jersey shore last year to discover a crime had been committed at his home. Someone had stolen the fresh-cut firewood a handyman had stacked out front after trimming the trees.
"If I was 20 years younger, I would seriously consider moving back to France," he railed in his column in The Note, a thrice yearly jazz magazine published by a local state college. "Our country seems to have lost its way completely."
The neighbors don't begrudge the curmudgeonly septuagenarian jazz great his complaints. What about the time he marched onto the nearby golf club tooting his saxophone after he'd been drinking to protest the carts zipping past his house at 6 a.m.? Luckily, the state trooper who showed up to investigate was a fan.
But then, most of the locals are. Mr. Woods settled here in 1976 after he returned to the United States from five years of self-imposed exile in Europe. The town had a wonderfully rustic jazz club called the Deer Head Inn. Mr. Woods had jammed there in the '50s after straight gigs at a nearby lodge, where people came to listen to, as he puts it, "Jerry Vale or whatever Italian singer was in fashion at that moment." The hills were full of old jazz men. After all, it's only an hour's drive from New York.
Mr. Woods started an annual jazz festival and a summer jazz camp, both of which are now institutions. The saxophonist also formed a quintet comprised of his fellow mountain dwellers. They toured the world and spread the news that the hills of northeastern Pennsylvania were alive not just with kitschy resorts famed for their heart-shaped hot tubs, but some very hip music.
The saxophonist, who has been voted best alto player 30 times in the last 32 years by Down Beat readers, is still at it. He and his merry men have taken up residence at Birdland this week through Saturday night. If you haven't heard Mr. Woods live, you have missed something extraordinary. He has an unbelievably fat sound. Sometimes, he can be a tad glib, tossing off licks and crowd-pleasing quotes from other songs instead of true improvisations.
But having seen Mr. Woods five times in the past 25 years, I can solemnly swear that he always brings the house down. Hearing Mr. Woods play a ballad like Harold Arlen and E. Y. Harburg's "Last Night When We Were Young" on his quintet's sparkling 2007 release, American Songbook II, is like hearing Pavarotti sing "E Lucevan Le Stelle" from Puccini's Tosca. The saxophonist unlocks more pain and disillusionment than the composers probably imagined from their torch song about transitory love. It's a defiantly beautiful performance.
Mr. Woods' lament about stolen firewood is a metaphor of sorts. The world is changing faster than he likes. There was a time when we were surrounded by musicians of his generation who worked the same magic with the Great American Songbook. Now they are vanishing.
Mr. Woods, who turns 78 in November, would be the first to tell you that he won't be doing it indefinitely, either. His years of smoking and drinking have caught up with him. When The Observer visited him at his house on an overcast October day, he was huffing steroids through an inhaler. His oxygen machine throbbed nearby.
"I think emphysema is nature's way of saying you've been playing too many notes," Mr. Woods conceded. "I mean whether you have an infirmity or not, growing old in an art form, you try to reduce it to its most basic elements."
"I can still play," he added. "I can still breathe. I mean, my lungs are like leather."
Indeed, Mr. Woods, who looks like a hipster version of Joseph Stalin with his gray scrub-brush mustache, was in good spirits. He is regularly interviewed by European reporters, like the German camera crew that recently paid him a visit. But a writer from a New York City paper? It had been a while. The old bebopper was tickled.
Any jazz critic enters Mr. Woods' house with trepidation. The reed man is famous for lashing out at reporters who probed him about his complicated relationship with the late Charlie Parker. Earlier on, Mr. Woods was praised for being one of the most slavish disciples of the bebop master, whom the younger saxophonist befriended as a teenager in the late '40s.
But after Mr. Parker died in 1955, the critics began searching for the new thing. Then even some of Mr. Woods' former admirers dismissed him as a copycat. Mr. Woods gave them ammunition by marrying Parker's window, Chan, in 1957. That Mr. Woods is white didn't help, either.
For years, he refused to discuss his ex-wife, to whom he was married for 17 years.
"They always leave off the fact that we were in love," he said shaking his head at the absurdity of it all. "[It was] Art Pepper [an alto-playing rival] who said, 'He's a fan of Charlie Parker's. He's such a fan that when Bird died, Phil Woods got ahold of Chan, Charlie Parker's ex-wife.' He apologized later. That's the stupidest thing I ever heard. He knew me better than that. Am I that shallow? Of course, I was smitten with the fact that she was Charlie Parker's widow. But we did fall in love. At the time, we needed each other, and it worked out."
Ms. Parker, for her part, wrote with great affection about Mr. Woods in her 1993 memoir, My Life in E-Flat, although she confessed that she found him to be something of a "whiner." They made quite a couple in the '60s. Mr. Woods looked the sort of mustachioed outsider whom Jack Nicholson would have played to great effect in a movie with a Robert Towne script. Ms. Parker exuded a similar edgy glamour, with her Jean Seberg 'do. Maybe they were too perfect to last.
Over the years, Mr. Woods' adulation for Mr. Parker became much less of a liability. The truth is, many of the greatest jazz players are not innovators like Charlie Parker (really, how many Birds can there be?) but refiners like Mr. Woods. They legitimize the masters. For what is a prophet without disciples? And Mr. Woods spent so much time in Parker's robes that they became his own.
Mr. Woods was looking forward to his week in New York. He and his third wife, Jill Goodwin, used to head home every night after his gigs in the city. Now they prefer not to drive at night. So they will stay at the Marriott Marquis, that Times Square tourist beehive. He could tell them stories.
"I hung out with Jack Kerouac, man," Mr. Woods said. "I saw Bird drinking with Dylan Thomas at the bar in the village. I went to jam sessions at Larry River's pad. I remember seeing Bird playing Larry's baritone sax."
Mr. Woods started to laugh. "I mean, 'WOW!' There was magic in the air."
There still is a bit; catch it while you can.