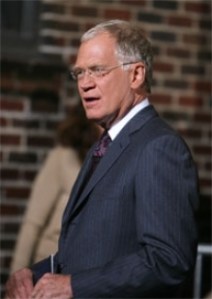 The Times has details on a possible connection between David Letterman and blackmailer Robert Halderman:
Mr. Halderman was, at least at one time, living with one of Mr. Letterman's longtime assistants.

According to local records, Stephanie Burkitt [sic, it seems] shared a residence in Norwalk, Conn., with Mr. Halderman.

Ms. Burkitt is well known to fans of the show because for a long period several years ago Mr. Letterman brought her on the show often. He regularly joked with her about subjects like what she had done over the weekend. He gave her the nickname Monty, which she said she hated.
She also appeared frequently on the show to give out prizes during contests with the audience.
The Huffington Post also says that Stephanie Birkitt was one of the women involved in the extortion plot. The HuffPo writeup quotes a RadarOnline story on her reaction, saying that she's "mortified Halderman is using her fling with Letterman to blackmail her boss."