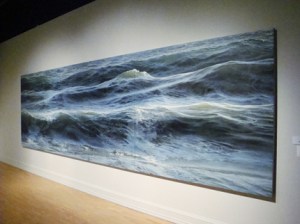 The Brooklyn artist Ran Ortner's painting Open Water no. 24 has won the inaugural ArtPrize competition. The new contest bills itself as the "world's largest art prize," apparently because the first-place award, determined by a vote of "viewers," is $250,000. It's based in Grand Rapids, Michigan.
The Detroit Free Press writes:
About 33,000 viewers, who were required to register in person, cast more than 334,000 votes during the 16 days of the competition by text message and online at ArtPrize.org. Nearly 14,000 votes were counted in the final round, after the field was trimmed to the top 10 last week.
In a Times article earlier this week, participant Deborah Rockman had complained that the format encouraged splashy crowd-pleasers:
The competition had churned up "a lot of work that was based on spectacle. . . . If it was bigger, it was better," she continued. "If it was colorful, it was better; if it was entertainment, it was better."
One of the finalists was a giant foam Loch Ness monster that floated in the Grand River.
Ortner's work is comparatively subdued and it was the only "traditional" painting among the finalists. Maybe the masses don't need spectacle.
N.B.: The disgruntled Ms. Rockman paints fetus faces.