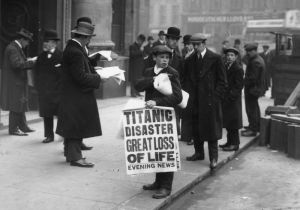 Last night, at a benefit for the News Literacy Project, New York magazine's Jada Yuan asked Arthur Sulzberger Jr. about the future of print journalism.
"The best analogy I can think of is, have you ever heard of the Titanic Fallacy?" he responded.
Comparing your business to the Titanic would not seem to be good policy. But–his point is not as simple as that:
"Even if the Titanic came in safely to New York Harbor, it was still doomed," he explained. "Twelve years earlier, two brothers invented the airplane. . . . We are trying to convert shipping companies to airplane companies," said Sulzberger. "Same business: transporting people safely across long distances. Different cost structure, different way of doing business, but the same core business. There is still a very vibrant business in shipping."
So instead of despairing, we will applaud the willingness to risk that soundbite as an example of his brave thinking.