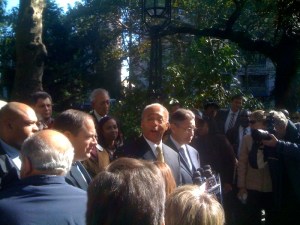 A host of Assembly Democrats, headed by Speaker Sheldon Silver, gathered in City Hall Park this afternoon to endorse Bill Thompson for mayor. But the talk of the afternoon was Rudy Giuliani's appearance with Mayor Bloomberg in Borough Park yesterday.
When a reporter inquired about Mr. Giuliani's comments, Mr. Thompson replied: "Well, I saw comments by both of them. And I think it's unfortunate that the mayor and Rudy Giuliani have resorted to the politics of division and the politics of fear. It's also a distraction. They're trying to distract from Mike Bloomberg's failed record."
Asked whether he thoughts the comments were "race-baiting," as others have suggested, Mr. Thompson deferred. "I think you're going to have to ask other people," he said.
Fortunately, there were plenty of other people to ask.
Assemblyman Nick Perry, who represents parts of Brooklyn, was more than happy to offer his thoughts. "It's unfortunate that Mayor Giuliani has resorted to divisiveness, but it's not surprising. That's his modus operandi, that's what he did when he was mayor. He kept the city divided. And we know, should he surface again to run for another job that's what we would expect. I think maybe he hurt Bloomberg unintentionally, but the mayor should come out and condemn the statements made by Giuliani–unless he supports it," the assemblyman said.
Asked whether he thought the comments had a racial element, Assemblyman Perry replied: "The way it was said, it sounds like that to me. It's just like the code words that are used all the time to stigmatize the minority community. It has to do with crime, and when you hear that statement you really have to think twice about who's saying it and what the intent is. I have no reservations at all about saying that there is a deliberate attempt to divide the city with those comments."
"If I were Bloomberg, I wouldn't even want to be seen with him," said Assemblyman Keith Wright of Manhattan, who was sporting a Tufts University hat and said he and Thompson roomed together for a time in college. "It just shows that in the waning days of a campaign, you have Bill Thompson looking toward a Sheldon Silver, you have Mayor Bloomberg looking toward a Rudy Giuliani. So when the chips are down and it comes crunch time, you look to your big horses and if you're looking at Giuliani as your big horse, you've got a big problem."
Assemblyman Wright, who was recently elected chairman of the Manhattan Democratic Party, added that the party's Get Out The Vote operation might surprise some people. "It's going to be a tsumani the likes of which you haven't seen before. Look out, batten down the hatches." And he thought Mr. Giuliani's comments might help. "I think you'll have all factions from around the city–black, white, Jew, Gentile-coming out to vote against those comments, in favor of Bill Thompson."