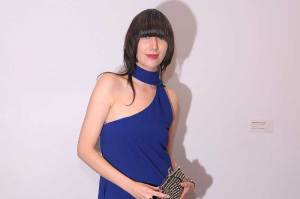 "Since I was a kid, I've been hoping that I could get kids on my side, because they're the coolest and smartest," said Karen O of the Yeah Yeah Yeahs at the New York premiere of Spike Jonze's movie version of the Maurice Sendak children's classic Where the Wild Things Are, held at Alice Tully Hall on Tuesday Oct. 15. "They know better than all of us."
Ms. O was speaking about recording the film's soundtrack with a chorus of children. But she could just as easily have been talking about Warner Brothers' hopes for the film, which went on to do very well in its opening weekend.
Wearing a tight, sparkly maroon-and-gold dress by Sonia Rykiel and bright red lipstick, Ms. O. said that while she and Mr. Jonze aren't an item anymore, their collaboration on the movie was one way to extend the relationship.
Also in attendance were Catherine Keener, who plays the main character's mother; and Forest Whitaker, Lauren Ambrose and Catherine O'Hara, who provide voices for the monsters. Max Records, the 12-year-old who plays protagonist Max in the movie, walked down the red carpet with Mr. Jonze and the still-spry Maurice Sendak, 81, who wrote the Caldecott-winning picture book in 1963. Master Records wore a suit with a raffishly loosened lavender tie.
Steve Mouzakis, who plays Max's teacher, said that during filming, Mr. Jonze actually put him in charge of a classroom full of kids. "I'm not a real teacher, obviously, but he said: 'Go teach them.' We got to the point where they were asking me whether they could go to the bathroom."
Tom Hanks, a producer of the film, arrived surrounded by a flock of youngsters. "Spike has thrown a Hail Mary pass," he said. Starting from Mr. Sendak's 10-sentence book, he said, "how do you expand it? We had lots of variations, maybe they worked and maybe they didn't." (Dave Eggers co-wrote the screenplay.) "But we didn't have a movie until Spike came in."
Dressed in a black suit with a black shirt, Mr. Hanks soon noticed a Members Only jacket on a young reporter. "Members Only?" he asked. "What's coming back next, The Love Boat? The Dukes of Hazzard?"