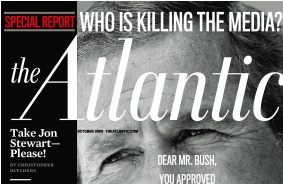 The Atlantic has a new special issue coming in November featuring Brave Thinkers–27 people who have "risked their careers, reputations, fortunes and in some cases their lives to advance ideas that upend an established order," according to the magazine. NBC Universal's Jeff Zucker, the New York Times' Arthur Sulzberger, Barack Obama and Facebook's Mark Zuckerberg are on the first annual list.
So what makes Mr. Sulzberger so brave? The fact that he actually has faith in Web revenue. "In the face of collapsing stock prices, he's avoiding staff cuts and expanding online presence," according to The Atlantic. "The Times employs 11 people to moderate online comments, more than twice the number of reporters on the masthead at The Huffington Post. One might mistake such quality control for timidity, or for an anachronistic journalistic indulgence. But even as Sulzberger has aggressively led The Times onto the Web, he is betting that his paper's dedication to high-quality journalism is its most valuable asset, however costly it now seems."
For a sneak preview of the print feature, TheAtlantic.com team produced an online section, debuting today. There's a slideshow featuring the individuals, with blurbs from the print edition's mini profiles along with a few Web-exclusive factoids.
The Atlantic also produced five Web videos–four of which feature Brave Thinkers.
"It was conceved as a print feature, although Web editors were in the room while they put this together," said Bob Cohn, editorial director of TheAtlantic.com, in a phone interview with the Observer from his home. "We really wanted to bring some of these folks alive as much as possible."
Another video, which is the most fascinating one by far, is a behind the scenes look at the making of The Atlantic's issue. In interviews, editor James Bennett and deputy editor Scott Stossel explain The Atlantic's mission to challenge conventional thinking–being founded as a magazine that advocated abolition in 1857. They highlight a few successes and some failed predictions during its history, including a prediction of the invention of a mechanical womb. Scary!
Take a look-see:
Readers can also submit their own nominations for "Brave Thinkers" in their neighborhoods or industries, which are being posted online in (nearly) real time. "It's pretty clear that appealing to that sense of community is an important way to build a successful website," Mr. Cohn said. It's also a chance for people not only to highlight other daring or risky thinkers in their own worlds, but to send along a little link love to hyperlocal publications. "They can provide links to their own community newspapers or local journalism that might tell us about these people," Mr. Cohn added.