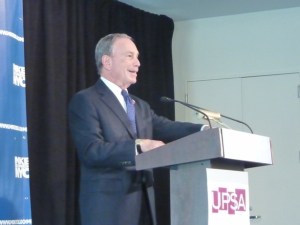 Michael Bloomberg said crime that crime will be cut in half, and schools will be so good that suburban families would move into the city just to get their kids into one.
Those were among the highlights of Bloomberg's speech this morning about what he thought the city would look like at the end of his third term: a cleaner, greener New York City with more efficiently run schools.
But the speech didn't break much new ground for people who've followed Bloomberg.
"They're all great ideas. I've just head a lot of them before, from him" president of student urban planning association at NYU, Sandra Rothbard, said after the speech.
It would be fairly unusual for a front-running campaign to drop anything big or new in the waning days of an election. What today's speech lacked in newness, it did, try at least, to offer an overall vision of what Bloomberg thinks his legacy will be.
Bill Thompson didn't think Bloomberg's vision of 2013 would pan out.
"He talked about cutting homelessness by two-thirds and now we look at a record number of homeless families," Thompson told reporters later. "He talked before about brining costs down. We look at middle class, working New Yorkers, poor New Yorkers being pushed out each and every day."
After mentioning Bloomberg's turnaround on the issue of term limits, Thompson said, "I don't know if the voters in New York City have confidence in anything that the mayor promises any longer. They've seen too many promises that have been broken over the last eight years."
Later, Thompson said "The mayor can talk about 2013, 2017, whatever year he'd like to talk about. Let's talk about now. I think the people of New York City know better than to believe the mayor's false campaign promises."
Here's Bloomberg's speech as prepared for delivery:
We're eight days out from the election, but today I would like to extend our horizons a bit farther out – and offer a vision for what this City will look like on December 31, 2013 if I'm lucky enough to be re-elected to another term.

Now, we've already made a lot of progress together: We've dramatically cut crime, turned around a broken school system, banned smoking in the workplace, created 311 and added new parkland. I could go on, but as you know, New Yorkers don't like to boast.

We've done it by putting aside partisan politics – and reaching out and working with Democrats, Republicans, and independents.

I'm so proud of what we've done over the past eight years, but I'm running because I believe the next four can be even better.

So let's fast forward four years.

It's New Years Eve, 2013 – a cold, blustery, sunny day, about seven weeks after the conclusion of the fourth straight subway series. For the record, that's not actually a campaign promise – but we can dream.

In Times Square, people are beginning to gather for the big New Year's Eve celebration, as they always do. And to our visitors, things may look very similar to 2009. The bright lights, the big crowds, the Naked Cowboy.

But the people who call this City home will see and feel and experience real differences – real improvements – in their everyday lives.

To begin with, in 2013, we'll feel safer than ever – because crime will be lower than ever and our counter-terrorism efforts will be stronger than ever.

When I came into office in the wake of the 9/11 attacks and in the midst of an economic downturn, the experts wondered whether we could continue to reduce crime.

Since 2001, we've cut crime by 35%. Now, those same experts wonder if it's possible for crime to go any lower.

No one knows the answer – but we're determined to find out.

By 2013, can we cut crime another 15 percentage points – making it half of what it was in 2001?

It may be impossible, but I've never shied away from setting big goals and by continuing to find innovative ways to fight illegal guns and expand our use of technology, as I've outlined in this campaign and by continuing to improve the training and support we give our officers, I believe it can be possible.

So that's our goal: cutting crime in half by 2013, compared with 2001 and continuing to make New York even safer.

We're the safest big city in the country, and on my watch, we're going to stay that way.

In 2013, New York will not only be safer than ever – it will be greener than ever and greener than any other big city in the country.

Most of our taxi cabs will be fuel-efficient, green vehicles.

There will be more trees in every neighborhood – 650,000 more trees.

City government will be producing 840,000 fewer tons of carbon emissions.

And we'll be in the midst of a major expansion of our park system.

New York already has the most parkland per square mile of any high-density big city in the country.

Over the past eight years, we've added another 500 acres – and we've begun re-connecting neighborhoods to one of our most precious resources: our waterfront.

Over the next four years, the work we'll do to expand our parks will make our waterfront almost unrecognizable compared to what it was in 2001.

In 2013, here's what we'll see – and all of these projects are already in the budget:

Brooklyn Bridge Park will be two-thirds complete.

There will be two miles of new parkland along the Manhattan side of the East River.

The waterfront at Long Island City in Queens will be open to the public – and there will be more than 100 new acres of parkland at Fresh Kills.

In the South Bronx, we'll see families walking along a greenway that gives them direct access to Randall's Island – and the dozens of new ball fields we're creating there.

We'll also see families strolling across the High Bridge – the oldest bridge in the City.

It's been closed for nearly 50 years – a symbol of an era when New York neglected its parks and historic treasures.

In 2013, it will be open again – and I think it will help do for its neighboring communities what the High Line is doing for West Chelsea.

The transformation of our waterfront will be one of the greatest legacies we will leave our children and it will give more New Yorkers a chance to experience the best of both worlds: all the opportunity and excitement of life in this City – together with the natural beauty and open space of a day in the country.

By 2013, we will also have created – far and away – the best – public – school system – of any big city in the country.

Not only will more middle class families be staying in the City and sending their kids to school here, I believe we will start to see an entirely new phenomenon:

Families from around the nation and the region will be moving into the City for the schools.

That was unthinkable just a few years ago!

Families will come because more and more neighborhoods will be offering top-quality schools that are as good as – or better than – some of the suburban schools.

They'll come because our schools will be performing at higher levels than schools in Boston or San Francisco or Phoenix or any other big city in the country.

And they'll come because they want more quality school choices – and they'll have more choices here than just about anywhere else in the country.

In 2013, students in our elementary schools will be achieving at the same level as students in the rest of the state in math.

No other major city has eliminated that achievement gap – but we will.

I believe we're at a tipping point with our school system – and it's a point of no return.

For decades, the conventional wisdom was that a dysfunctional school system was just a reality you had to accept if you wanted to live in the City. Until the 1990s, people thought the same thing about crime.

We've completely changed expectations on crime – and now New Yorkers demand safe streets and they hold the mayor accountable for delivering results.

The same process is occurring in our schools – and if you think about it, the results will save just as many lives.

Creating the best big city public school system in the country will help us retain and attract middle class families – and so will the completion of our affordable housing plan.

By 2013, nearly 165,000 families will have bought or rented homes that they otherwise could not afford or stayed in homes that they otherwise might have been forced out of.

It's the largest affordable housing program in the country – and it will help 500,000 New Yorkers stay in our city, in communities from the Rockaways to East New York to Harlem.

At the same time, we'll continue preserving our city's unique history by landmarking buildings and neighborhoods and we'll continue protecting the character of our communities through re-zonings – something I know this group can appreciate.

In fact, you might be interested to know that we've re-zoned one-sixth of the entire city over the past eight years – and 80% of that land has been down-zoned. The other 20% has been re-zoned to promote growth in areas that are well-served by mass transit.

All of this work will make New York a more attractive place to live – and to work.

Over the next four years, we'll pursue the most ambitious economic development and job-creation program of any city in the country.

In 2013, New Yorkers will be working in the country's most diverse economy – less dependent than ever on Wall Street, and more hospitable than ever to small businesses.

Thousands of New Yorkers will be working in middle-class jobs that – right now – don't exist – in facilities that – right now – don't exist.

In the Bronx, the new Hunts Point Produce Market will be nearing completion.

In Brooklyn, New Yorkers will be working at our new recycling plant – green jobs for the green economy we're building.

They'll also be working at new cargo facilities that will bring jobs back to the waterfront.

There will be new jobs at three new theaters in the BAM Cultural District – at a new Jamaica performing arts center – and at a bioscience facility at the Brooklyn Army Terminal.

At the East River Science Park, scientists will be streaming in and out of Eli Lilly's new center for oncology research.

In Lower Manhattan, the Freedom Tower will be rising – and, most importantly, families who lost loved ones in the attacks on the World Trade Center – and all New Yorkers, and all of our visitors from around the world – will be able to remember and honor the victims at a beautiful and peaceful memorial and museum.

In 2013, it will also be easier to get to work.

More of the middle class commuters from Queens, Brooklyn, and the Bronx who now drive to work will have switched to the LIRR or Metro-North – because we'll work with the MTA to cut their train fares nearly in half.

Those who continue to drive will face shorter waits at toll plazas – because we'll work with the MTA to adopt new, high-speed tolling.

Residents of Long Island City may opt to take the ferry to work.

And Queens residents who work at the Javits Center, or elsewhere on the Far West Side, will begin riding the Number 7 Train past Times Square to 11th Avenue and down to 34th Street.

It's the first new subway track the City has built in more than four decade – and we're on schedule to complete it on time and on budget in 2013.

Now, let me ask you a question: Has anyone here ever gotten tired of waiting on a subway platform or at bus station, wondering when the next train or bus will show up?

Me too.

In 2013, many bus stations and subway platforms will have countdown clocks – and if you have any other questions about buses or trains, you'll be able to do what 60,000 New Yorkers already do every day: Call 311!

Let me ask you another question: does anyone here ride the F Train in Brooklyn?

Did you know there used to be an F Express train?

There was – until the early 1980s. And under our transit plan, there will be again.

There's a new reform-minded chairman at the MTA in Jay Walder, and I'm looking forward to working with him to implement our plan to improve and expand transit service in all five boroughs.

To picture what all of this will mean to our City in 2013, picture the people behind these improvements.

Picture a young boy playing with friends in Brownsville – spared from a random gun shot that would've taken his life, because we kept that gun off of the streets.

We can't prevent every tragedy – but make no mistake, we can and will prevent many.

Or picture an immigrant in Jackson Heights who is climbing the career ladder because we expanded English language courses for adults.

Or a single mother in Flushing who graduates from community college because we cut the cost of books and provided more free day care – making it affordable for her to go back to school and pursue her dreams.

Picture a former smoker in New Brighton – one of nearly 300,000 who quits or doesn't start smoking over the next four years.

Or a woman in Astoria who avoids a heart attack because her blood pressure and high cholesterol were treated as a result our electronic medical records.

By implementing the most ambitious public health agenda in the world, we've already lengthened life expectancy by nearly 15 months – and we're not slowing down now.

Finally, picture a mother and father in Washington Heights or Cambria Heights, Bayside or Bay Ridge.

They have a child entering elementary school – and they've decided to stay in the city not only because it's safer than ever and there are more parks than ever, but also because the schools are better than ever.

Those parents will have more high quality schools to choose from than ever before.

They'll have the hard data about each school's performance that they need to make the right choice.

They'll have easier access to information about their child's academic records. They'll find it easier to get their questions answered, on everything from transportation to enrollment.

They'll see tens of thousands of new seats in new schools.

And, most important of all, they'll know that their child is far more likely than ever before to graduate from high school and go on to college with the skills necessary to succeed in life.

That's my vision for where I want to lead New York City over the next four years.

I want New York City to remain the safest big city in the nation.

To complete the largest affordable housing program in the nation.

To implement the most ambitious economic and environmental agendas in the nation.

To achieve the biggest public health gains in the nation.

To extend our lead as the most immigrant-friendly city in the nation.

To create – far and away – the best school system of any big city in the nation.

And we will do it all by living within our means – not by spending money we don't have, but by using the best management tools by continuing to innovate and by working in partnership with the best and most dedicated municipal workforce in the world.

I've never been one for small ideas, I've never shied away from the toughest challenges and I've always insisted on being held accountable for my campaign promises.

That's why I've released regular progress reports on every single campaign promise I've made – because voters have a right to know!

The vision I've laid out today is achievable, and I know we can bring it to life – by continuing to reject politics as usual and by making pragmatic decisions based on the facts and on what's best for all New Yorkers.

But I can't do it alone. I need your help – not only on election day, but every day after that.

Wagner school graduates have an impressive tradition of public service – not just in government, but also in the private and nonprofit sectors.

So today, I'd like to offer you a challenge: wherever your career leads you, join with me in making New York safer and stronger and greener and healthier and better than ever.

We've got a lot of work to do, but I'm more optimistic and energized than ever – and together, we really can make a big difference and we really can make this vision a reality.

Thank you all very much.