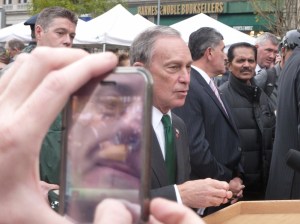 David Chen is up with a story saying the relationship between Jon Corzine and Michael Bloomberg – Wall Street guys who entered politics at the same time – has become strained.
"I was at a dinner party with him, maybe, two months ago," Bloomberg told reporters at Union Square this afternoon, when asked about Corzine. "I don't think I've talked to him, maybe once or twice since. Some business stuff. But there's certainly no strain in our relationship."
Weeks ago, Bloomberg aides hinted the mayor may endorse one of Corzine's opponents. He ultimately remained neutral in the race, but not before Bloomberg's top aide, Kevin Sheekey, took a piece out of Corzine.
The animosity is traced back to congestion pricing. And Corzine's fondness for partying in New York, where Bloomberg's secret army of supporters are more plentiful than a guy from New Jersey could have imagined.
From Chen:
Mr. Bloomberg does not think highly of Mr. Corzine's executive skills, according to people close to the mayor. He is surprised at how often he bumps into Mr. Corzine at social events in Manhattan.

[skip]

Their highest-profile clash came over congestion pricing. It was Mr. Bloomberg's signature transportation proposal, but Mr. Corzine attacked it as unfairly penalizing New Jersey drivers.

Mr. Bloomberg was livid when he learned that Mr. Corzine had boasted of his role in torpedoing the plan at a fund-raiser attended by several of the mayor's supporters.