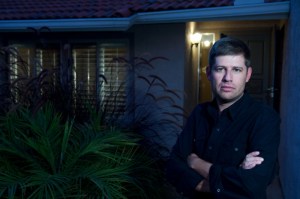 It's rather comforting to know that Oren Peli, writer and director of the improbable cultural marvel Paranormal Activity (currently terrifying audiences across the country), gets scared from time to time.
"The movie that really got to me was The Exorcist," said Mr. Peli on Thursday evening, sitting low in his chair in the Paramount Pictures' Times Square offices. The 39-year-old was clad in a leather jacket and was sitting alongside the film's producer, Jason Blum, 40. He looked a little weary—answering hundreds of questions from reporters all day can do that. The tall glass of soda on the table in front of him hadn't been touched. "I like things that get under your skin," he said. "A movie that starts in a normal setting and then very slowly and deliberately gets to where it is going."
This also happens to describes Paranormal Activity, which uses billowing bed sheets, drifting shadows and slamming doors to create a slow-burning atmosphere of terror. Despite the occasional obscenity uttered by Micah and Katie—the couple menaced by a mysterious demon in this modern haunted house fable—the movie contains little to warrant its R rating. Sometimes the scariest thing is what you don't see, a welcome antidote to the tired torture porn that Saw VI (yes, that's six!) will unleash on audiences this weekend.
"Slowly and deliberately" also describes the movie's history. Unlike The Blair Witch Project, which became an overnight sensation after debuting at the Sundance Film Festival in 1999, Paranormal Activity has inched along, from a miniscule $15,000 production shot in just seven days, to a screening at the horror festival Screamfest in 2007. There, it attracted the attention of producer Steve Schneider, who then shared the movie with veteran producer Jason Blum, who has shepherded the film ever since. After it got a slot at Slamdance in 2008, got audiences buzzing and had quite an effect on a certain DreamWorks founder (think Jaws, but we'll get to that later), DreamWorks signed Mr. Peli, a former day trader from San Diego, to a deal to remake Paranormal Activity on a larger scale. Still, Mr. Blum and Mr. Peli thought the movie would work in its modest state. They arranged a screening for DreamWorks executives, ostensibly as a forum for screenwriters working on the remake to understand what parts of the movie worked, and what didn't.
"Oren and I always told each other that if we could get a decision maker in a room with an audience to watch the movie, we could get distribution," Mr. Blum said, acting as his Hollywood-wise wingman. "As soon as that screening ended, the remake was off the table."
There was still work to be done, however. Now that the movie was bound for theaters, everyone agreed that it needed a new ending.
"The original ending didn't really live up to what had happened before," Mr. Peli said. "People were expecting more, instead they got something that was not as freaky. So I started tinkering."
Mr. Peli's tinkering has paid off; he has clearly giving audiences what they want. By last Sunday, Paranormal Activity had earned more than $30 million. It was Wednesday's highest-grossing movie nationwide.
Much credit has been given to the clever marketing campaign mounted by Paramount, which took over the distribution after splitting with Dreamworks last year.
"This is a movie that people respond to and a distribution apparatus that really knows how to put the petal to the metal." Mr. Blum said. "When has a major studio released a movie that cost $15,000? I don't know if it's ever happened." He paused. "Maybe in 1928."
Paramount's strategy—a trailer showing members of the audience freaking out and a viral campaign that encouraged fans to "demand" that the movie screen at their local cinema—is at once technologically sophisticated and a throwback to the great gimmicks of schlock horror director William Castle, who in the '50s offered life-insurance policies to moviegoers certain to die of fright, installed vibrators in theater seats and stationed nurses in the lobby to aid distressed patrons.
"Because the movie is so strange in its way, it let the marketing people approach it in a weird and unique way," Mr. Peli said. "It's a weird movie, so they threw the books away and started from scratch."
Critics have repeatedly likened the movie's style and studio campaign to The Blair Witch Project. Is Mr. Peli getting tired of answering questions about that other micro-budget success story?
"I'm not shying away from the fact that [Blair Witch Project] is one of my favorite movies and it inspired me in many ways to do Paranormal Activity," he said. "It gave me the confidence to know that you can make a low-budget movie that looks like home video. As long as it's effective, it could find an outlet for distribution."
Whether in private screenings at Mr. Peli's house back in 2005 or in packed theaters across the country, the movie has done one thing consistently: scare the crap out of people.
"Some people leave because they're too scared," said Mr. Blum. "A friend of mine watched the movie for about an hour and had to go outside to take a break. Then she came back in to see the end."
"When people go home after the movie and try to fall asleep, that's when they become conscious of every little sound," Mr. Peli said. "I get angry emails from friends who say they haven't been able to get a good night's sleep for a while."
In what might be the movie's greatest coup, it even managed to terrorize Steven Spielberg. The story, quickly becoming the stuff of industry legend, goes a little something like this: In 2008, Spielberg's assistant at DreamWorks gives him a copy of the movie to watch at home. Shortly after finishing the movie, he goes to his bedroom, only to find that the door has inexplicably been locked from the inside, forcing him to call a locksmith. Convinced that the video is haunted, he returns it to his staff at DreamWorks the next day in a garbage bag. At once pleased and disturbed, he green-lights the movie and a scary-Cinderella film is born.
With a cult hit on his hands and a new film in the works (an independent thriller called Area 51 with Mr. Blum on board as producer and Mr. Schneider as executive producer), how, The Observer wondered, has Mr. Pelis' life changed?
"The amount of emails?" Mr. Blum suggested.
Mr. Peli thought for a moment, and summed up, "my whole life has changed."
Well, O.K., then! How about Halloween? Was he looking forward to spending this year's holiday as a now rising-star director?
"No," Mr. Peli said. "I don't have time for Halloween."
"Maybe we'll dress up as demons," Mr. Blum offered.
"Yeah, we will be invisible," Mr. Peli added, laughing. "So we won't even have to be there."
Clearly, Mr. Peli hadn't quite yet embraced his status as the current big thing: A Paramount staffer asked if he wanted another soda.
"Are there free refills?" he asked.