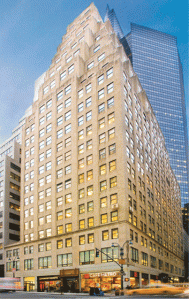 He is known as one of the most prolific Beaux-Arts architects of the Jazz Age by critics, as well as the designer of the Chrysler Building. Some may even remember him as a "Doctor of Altitude," a title he was awarded by The Architect magazine in 1929, before the Great Depression pushed Art Deco skyscrapers out of vogue. But William Van Alen is not often remembered as a real estate investor, even though he bought properties across Manhattan's East Side during the mid-1920s.
One of the wisest, most recession-proof acquisitions Van Alen made might be the four plots of land on the southeast corner of Lexington Avenue and 41st Street, now occupied by a 27-story office building designed by Moore and Landsiedel.

Artbilt Realty Corp., the real estate company Van Alen shared with Charles L. Frasier, leased a pair of three-story residential buildings at 370 and 372 Lexington Avenue for $25,000, The New York Times reported on Feb. 26, 1925. Maurice Wertheim, who brokered at least five deals for Van Alen between 1924 and 1927, according to The Times, announced that Artbilt planned to combine the two new lots with two adjacent parcels it already owned and build an office building.

While the 301,000-square-foot building was under construction, Wertheim brokered several other transactions for Van Alen in midtown. Meanwhile, his nearly 20-year marriage to the daughter of Henry Morgenthau, the former Turkish ambassador and later Franklin Roosevelt's Treasury secretary, was unraveling. Alma Wertheim filed for divorce in Reno, Nev., on Dec. 22, 1929, on the grounds that her "artistic temperament" and her husband's financial desires were "incompatible," according to dozens of stories published in newspapers then. "Mrs. Wertheim charged her husband with mental cruelty," the Associated Press reported on Dec. 26. "She said he showed no appreciation of her feelings but was absorbed entirely in his business. … He sought to dominate her, she said, and at times gave way to outbursts of temper."

The Wertheims finalized their divorce just over two months after the stock market crash that triggered the Great Depression. The following spring, in 1930, 370 Lexington opened for occupancy.

Within one month, Cushman & Wakefield announced that the building was 66 percent occupied, according to the May 10, 1930, Wall Street Journal. The Delano and Aldrich architecture firm leased 4,500 square feet on the 11th floor, joining tenants like the Blaker Advertising Agency and the Department of Justice, which left its federal office building in Lower Manhattan.
THE ECONOMY IN 1930 was not so different than the climate in September 2008, when Sherwood Equities took over management and leasing of 370 Lexington.