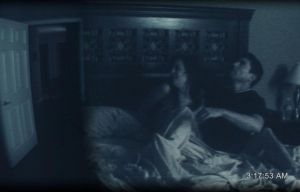 Everyone expected a horror film to be at the top of the charts on the weekend before Halloween… just not this horror movie. Paranormal Activity landed in first place over the weekend, scaring up $22 million and upsetting Saw VI in the process—the latest edition in the torture porn franchise opened in second with a disappointing $14.8 million. Other disappointments? How about a paltry $7 million for the sixth place Astro Boy, a worse $6.3 million for Cirque du Freak: The Vampire's Assistant (apparently vampires can't cure all), and just $4 million for Amelia. As we do each Monday, here's a breakdown of the top five at the box office.
1. Paranormal Activity: $22 million ($62.4 million total)
Ladies and gentleman, we officially have a phenomenon. Made for just $15,000, Paranormal Activity has gone from midnight screenings in a handful of American cities (not New York incidentally) to box office heavyweight in just a single month. The marketing marvel—like Blair Witch Project before it—has benefited from a "gotta see" factor more than word-of-mouth. And as Paramount continues to add theaters (they added 1,200 for this weekend and plan to add 500 more on Halloween), the results will only go higher. Paranormal Activity is certain to reach $100 million by the end of its run, which is almost comical to see in print (must we direct you back to the budget?). This is one of the biggest winners of 2009 and no one saw it coming.
2. Saw VI: $14.8 million ($14.8 million total)
Before you put a toe tag on the Saw franchise—something made easy because of the fact that Saw VI is the lowest grossing opener in its history—consider that with an $11 million budget, Lionsgate is already in the black on this thing. Oh, and did we mention that Saw VII will be in 3-D when it hits theaters next October? (Duh, of course!) The franchise itself is fine, but this weak opening in the face of Paranormal Activity does expose the soft, white underbelly of Saw: when faced with any competition, the films fold up shop. This is a bully franchise, if we've ever seen one.
3. Where the Wild Things Are: $14.4 million ($53.9 million total)
Further proof Where the Wild Things Are isn't a kids' movie: the 56 percent drop from last weekend. Unless word-of-mouth on the playground is pretty bad, Spike Jonze's film is performing like any other geek-centric blockbuster: after a highly anticipated opening that saw the fanboys and girls come out in droves, weekend two leveled off. Still, with $54 million already in the bank, Wild Things should find its way towards $75 million domestically. Add in the eventual dollars earned in foreign territories and on DVD, and Warner Brothers should make back its $100 million investment in Mr. Jonze's beautiful vision.
4. Law Abiding Citizen: $12.7 million ($40.3 million total)
Because we're fond of comparing Law Abiding Citizen with June's The Taking of Pelham 1 2 3, let's take a peak at their second weekends: Pelham plunged 48 percent in frame two, grossing $12 million; Citizen eased a much-more friendly 39 percent to find itself with $12.7 million. We're not going to spin Law Abiding Citizen as anything resembling a hit, but it is yet another example of how these types of films are good for the studio bottom line, so long as their budget is kept in check.
5. Couples Retreat: $11 million ($78.2 million total)
While people seem all-to-eager to bury Vince Vaughn because of the quality of his output, Couples Retreat continues to rake in the dough, dropping roughly 36 percent over the weekend and easily finishing ahead of the opening of Astro Boy ($7 million). Well on its way towards $90 million and with an outside shot at $100 million, Couples Retreat continues to prove Mr. Vaughn's worth as an actor: he can take crappy premises (cough, Four Christmases) and spin them into box office gold.