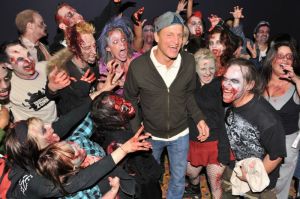 Who knew killing zombies was such a lucrative business? Zombieland squished the competition at the box office this weekend, placing first with an estimated $25 million. That gives the horror-zombie-comedy hybrid the second highest opening for a zombie-related film, behind only Zack Snyder's Dawn of the Dead remake. Elsewhere on the charts, it was mostly disappointment: Ricky Gervais proved he still isn't an American movie star, as The Invention of Lying landed in fourth with only $7.3 million; while Michael Moore's Capitalism: A Love Story and Drew Barrymore's Whip It tied for sixth, each grossing a shockingly low $4.8 million. Though, to be fair, Ms. Barrymore's Whip It failed in nearly one thousand more theaters than Mr. Moore's new polemic. Ouch. As we do each Monday, here's a breakdown of the top five at the box office.
1. Zombieland: $25 million ($25 million total)
This start for Zombieland is very strong for sure—to wit: it grossed more over the weekend than Shaun of the Dead did in its entire theatrical run—but the question to watch going forward is whether or not it can spawn a sequel. (Because, as Scream taught us, it's all about the sequel.) If word of mouth is great, Ruben Fleischer's sharp debut could reach over $80 million and we'll see Zombieland 2: More Zombies; if not, we won't. Along those lines, how long before the Sony marketing team puts the top-secret-celebrity-cameo-that-wasn't-top-secret-because-it-had-been-on-the-Internet-for-months into the trailers?
2. Cloudy with a Chance of Meatballs: $16.7 million ($82.3 million total)
Even when faced with the 3-D challenge of Disney's Toy Story franchise, Cloudy with a Chance of Meatballs held up remarkably well, dipping just 33 percent and pushing its cume to over $82 million. As this sleeper smash marches its way towards triple-digits, remember that the next animated film coming to theaters is Astroboy on October 23. There are a lot more kiddie dollars for Meatballs to earn between now and then.
3. Toy Story / Toy Story 2: 3-D Double Feature: $12.5 million ($12.5 million total)
As if you needed further proof that the Pixar brand is bulletproof: Disney re-released 3-D versions of Toy Story and Toy Story 2—as an obvious money grab—and the two films still wound up grossing $12.5 million. The moral is simple: if you want your film to succeed, make sure it has an extra dimension.
4. The Invention of Lying: $7.3 million ($7.3 million total)
The good news for Ricky Gervais is that The Invention of Lying had a better start than Ghost Town did last fall. The bad news? That's not saying much. As much as we love Mr. Gervais, he obviously isn't capable of carrying a movie on his own shoulders. Clearly talent doesn't translate to box office dollars.
5. Surrogates: $7.3 million ($26.3 million total)
Speaking of which: that the second weekend of Surrogates could top both Whip It and Capitalism: A Love Story feels decidedly unfair; the Bruce Willis bomb dropped 50 percent from last weekend and yet still easily handled the two films, which grossed $4.8 million each. For Whip It, there isn't much to sugarcoat: Drew Barrymore can only hope her sparkling directorial debut can find an audience in college dorm rooms for the next decade. Meanwhile, Capitalism: A Love Story is fighting a battle against perception. A $4.8 million opening for a documentary about the financial industry has to be considered a huge win… unless, of course, Michael Moore is involved.