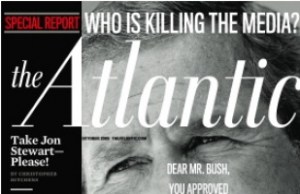 The November issue of The Atlantic will be a special issue featuring a list of 27 "Brave Thinkers"–leaders from the worlds of business, technology, politics, economics, science, and culture who the magazine says are "risking careers, reputations, and fortunes to advance ideas that upend an established order."
Some of the magazine's choices seem a little less than brave, however. Like: Ralph Nader? In 2009?
You can make the make the case that Arthur Sulzberger's web ventures are risky ("In the face of collapsing stock prices, he's avoiding staff cuts and expanding online presence"), but Mark Zuckerberg's perpetual Facebook retooling seems less like "upending the established order" than establishing the order as he goes. And setting aside Trey Parker and Matt Stone's new digital development deal, isn't it a little late to start talking about how daring South Park is?
The web preview currently online gives readers the chance to watch videos featuring the brave thinkers, and to submit their own nominations. The Atlantic also wants to pat itself on the back for its own bravery over the years. Gillian Reagan writes:
Another video, which is the most fascinating one by far, is a behind the scenes look at the making of The Atlantic's issue. In interviews, editor James Bennett and deputy editor Scott Stossel explain The Atlantic's mission to challenge conventional thinking–being founded as a magazine that advocated abolition in 1857. They highlight a few successes and some failed predictions during its history, including a prediction of the invention of a mechanical womb. Scary!
More important, though, is the introduction of a new special issue: the way to save publishing!