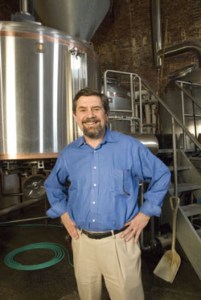 It looks like The Brooklyn Brewery is sticking around Williamsburg.
For years, owner Steve Hindy had been searching for new manufacturing space somewhere in the borough after the Williamsburg rezoning—and subsequent condo boom—left him feeling priced out of the neighborhood he's been in since 1996. It also forced him to shift more and more of the production to facilities upstate, and for awhile it seemed Brooklyn's namesake beer might fall victim to the borough's own success.
But with the downturn making even a brewery look like an attractive tenant, and with an $800,000 grant from the state government last week, Mr. Hindy was able to tell the Post he's converting 13,500 square feet of vacant space in Williamsburg into new production facilities, and increasing his local brewing capacity from 8,000 barrels to 50,000 barrels.
Mr. Hindy says the new facility will feature all kinds of green technologies, but doesn't say whether the brewery will expand those ever-crowded happy hours.