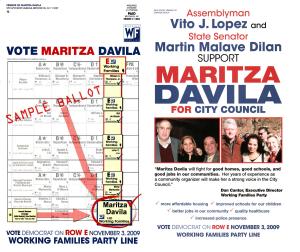 Here's an interesting new mailer from rogue City Council candidate Maritza Davila, who lost the Democratic primary in the 34th District to incumbent Diana Reyna, but is challenging her again in the general election from the Working Families Party ballot line.
As the mailer clearly states in bold letters—and illustrates with a photo—Ms. Davila is the preferred candidate of Assemblyman Vito Lopez, who chairs the Brooklyn Democratic organization and who has made no secret of his dislike for Councilmember Reyna, his former chief of staff.
Ms. Davila's narrow loss in the primary put the powerful assemblyman in awkward spot, one that's apparently been resolved—if the mailer is any indication—by urging voters to "Vote Democrat on Row E," which is actually the Working Families Party line. The Democratic line, as you can see from the mailer's sample ballot, is Row A.
One other thing to notice: Where Ms. Reyna's name would appear on the sample ballot—in the Democratic column for the 34th District—the box is simply blank.