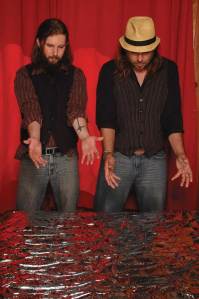 There's a certain kind of music that seems like it was created for no other reason than to have a soundtrack for October, when everything's starting to get dark and cold and spooky. Nick Cave is one example. Ditto much of Tom Waits' canon. Leonard Cohen ultimately fits into this category, too.
As does The Black Heart Procession, a haunting indie rock outfit oft-compared to the aforementioned artists, which hails—ironically enough—from sunny San Diego. They're playing two appropriately-timed shows in New York this Halloween weekend, including a Sunday night stint at the Bowery Ballroom. (Saturday's show is actually at Maxwell's in Hoboken, but close enough.)
Their newest record, simply titled Six (the band's sixth, in case the name doesn't spell that out), was released (you guessed it) on Oct. 6 on Brooklyn's Temporary Residence Limited. It fuses the gentle murmurs of the band's first three albums with the somewhat louder, more rock-oriented—though no less menacing—vibes of their most recent two, with no shortage of the melancholic piano and string arrangements the band is best known for. Words that come to mind: romantic, heart-wrenching, eerie, sinister, unsettling, spectral—that last one thanks to a few distinct cameos from The Black Heart Procession's signature instrument, the singing saw. It's the kind of music you might feel compelled to listen to after watching Twin Peaks, or while drinking whiskey by a campfire in the middle of the woods.
But there was a brief moment when it seemed like Six might not see the light of day.
Long story short, The Black Heart Procession—anchored by singer/guitarist Pall Jenkins and multi-instrumentalist Tobias Nathaniel—came together in 1997 after Mr. Jenkins' and Mr. Nathaniel's previous band, Three Mile Pilot, decided to take an indefinite vacation. (Three Mile Pilot's bassist, Zach Smith, went on to form Pinback, a noticeably poppier project and also the most commercially successful of the trio.) All three bands (Three Mile Pilot officially reunited in 2008) had been happily coexisting on the revered Chicago post-punk label, Touch and Go, until this past winter, when it became clear that indie rock wasn't recession-proof. On Feb. 18, Touch and Go's owners announced rather suddenly that they were laying off most of their staff, shuttering their distribution arm, and that they wouldn't be releasing any new music for the foreseeable future, leaving The Black Heart Procession with a finished album but no one to put it out. On their MySpace page, the band issued a desperate message to friends and fans, to the tune of, "If anyone knows of any good labels out there, please send them our way!"
"It kind of felt a little like being out on the streets," said Mr. Jenkins, speaking from the road last week while driving through the mountains of New Mexico. "It was a horrible feeling, because Touch and Go had always been really great to us, and being on that label was a great honor; something I was really happy to be a part of."
Meanwhile, in early March, Jeremy Devine, who owns Temporary Residence Limited—a much smaller, though not un-influential label—got a call from Pinback's Mr. Smith asking if he'd be interested in working with them. Mr. Devine was. And as it turned out, he was also interested in working with Pinback's brother bands. So he flew out to San Diego and offered them all deals similar to what they'd each had on Touch and Go—no contracts and a 50-50 split of the profits.
"Any time a band that I really liked would sign to Touch and Go, I kind of looked at it as, this means I'll never get to work with them, because they'll just stay on Touch and Go forever, because no one ever really left that label," said Mr. Devine. "So I'm glad it worked out, but the whole thing has been kind of bittersweet."
Mr. Devine, 32, started Temporary Residence Ltd. in 1995 with $350 worth of student loan money and an itch to put out a 7-inch from his tiny bedroom in Baltimore. He's released 165 titles since then, he said, the biggest of which, at 120,000 copies, was 2003's The Earth is Not a Cold Dead Place by the instrumental Texas post-rock quartet Explosions in the Sky.
Mr. Devine moved Temporary Residence Ltd. to Williamsburg in 2004, running it out of his apartment off the Montrose L stop for about a year before finding office space in Manhattan's Flatiron District in the fall of 2005. Last year, he moved the label to a 900-square-foot office in a converted sweater factory in Bushwick, where he now works with two full-time employees and an intern.

The Black Heart Procession, said Mr. Devine, was the last of the three bands to sign on with his label, but the first to release their new record, which is available not only as a double LP and "super-deluxe" CD sheathed in a full-color, 28-page hardbound linen-cover book, but also as a custom-made, black heart-shaped USB flash drive pendant necklace. Very expensive to produce, Mr. Devine admitted, but "their aesthetic is a huge reason why people are so attached to them. The general look and feel they've cultivated over the years is really iconic."
Mr. Jenkins calls it "The Black Heart sauce," and when it's missing, "we'll be like, 'The Black Heart sauce is just not going on here!' So we'll figure out how to either make it darker, or sauce it up, or ditch the song completely."
Which is not to say The Black Heart Procession guys are a bunch of black-clad brooding Goths.
"It's like, if you like horror movies or darker books, if that's the realm you feel comfortable creating in, then that's how it comes out; a dark tone underneath our music and lyrical topics," said Mr. Jenkins. "We're not wearing makeup and spandex and bullet belts, or walking around depressed, wanting to slit our wrists. There's a real side to what we're doing."