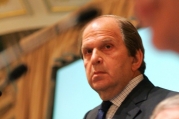 Bruce Wasserstein's death at 61 came as a surprise: it created ripples even in the media world, leaving the fate of New York magazine as well as the Kraft-Cadbury deal in th lurch.
After graduating from Harvard Law, Wasserstein went into finance, rising to prominence in the 1980s. The Wall Street Journal recalls his place at the center of a cutural moment:
Mr. Wasserstein, known for his bold tactics, sharp wit and scruffy dress, helped elevate the role of investment banker during the 1980s. Until then, investment banking was a cottage industry, in which a handful of discreet bankers remained loyal to select clients. But a series of hostile takeover offers, in industries from oil to cosmetics, thrust bankers into the center of the action.
The Journal's website also republishes its article on Wasserstein's 1988 departure from First Boston, which seemed at the time to signal "the end of an era." He was known as "Bid 'Em Up Bruce"–a nickname used throughout his obituary coverage, although always with the caveat that he hated it–for his aggressive (and innovative) tactics.
The Washington Post writes that his sister, playwright Wendy Wasserstein, "once told New York magazine that their mother believed Bruce's auspicious birth date–Christmas–"signaled 'Messiah potential.'"
After his surprise purchase of New York in 2004, Wassserstein became a well-respected media player. The New York Times quotes the magazine's editor, Adam Moss:
"He had always been interested in journalism, an interest sharpened by being on the receiving end of it," Mr. Moss said. "But he never used it to wield influence the way other powerful men would have, never tried to plant a story, never complained about anything we published."