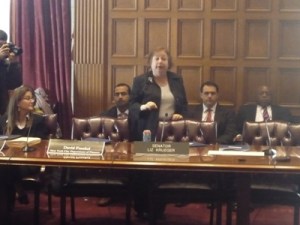 ALBANY—State Senator Liz Krueger, the vice chair of the Senate's finance committee, said that the staffs of each legislative conference will meet with staffers from the Budget Division in a closed-door meeting tomorrow.
"My understanding is that the governor and DOB will be putting some of their proposals on the table for us to start to evaluate and discuss and perhaps propose alternatives as we evaluate the governor's proposals," Krueger said before a hearing she was holding on the costs of property tax exemptions around the state. "We're not going to be the first ones to put a proposal on the table because actually the constitution says that's the role for the governor."
Paterson, after signing a bill in Syracuse that gives tax credits for energy efficiency, said that he will "probably release the plan within the next couple of days" and that it will be in the area of $3 billion.  
"Then after that I will work with the leaders to call a special session," he added.
Krueger was asked whether the fact that leaders of her conference are in China will be a hindrance to negotiations. "I don't think anybody expects there to be a decision on Wednesday," Krueger said, then added (half jokingly) "there's this amazing thing called the Internet. They have that in China, too. Ahh, as far as I know, we could check, they have not banned the New York State Senate, yet, in China, but that would be a really fascinating press story, wouldn't it? So somebody find out whether they're banning our Senate information flow in China. We'll have to do something about it."
I asked Krueger if she had any thoughts about being in Albany conducting a legislative hearing while her chamber's leaders are in China.
"I think legislative bodies always are involved in lots of different things at the same time, she replied. "So I'm here in Albany working on tax policy issues, and some of my colleagues are in China working on international trade issues."