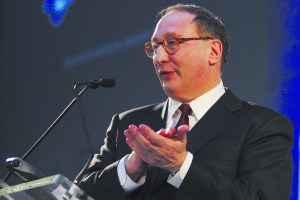 Bruce Ratner went modest this year.
In June, the Atlantic Yards developer conceded that Frank Gehry won't be designing any of his 22-acre, $4.9 billion site's 17 buildings; cheaper alternatives replaced the architect's plans, and, among other things, shrunk the arena slated for his basketball team.
In September, Mr. Ratner sold an 80 percent stake in that team, the Nets, plus a 45 percent interest in the arena to Mikhail Prokhorov, Russia's richest man, for $200 million. Mr. Ratner had bought the team in 2004 for $300 million, and later suffered $380 million in pretax net losses. Also last month, he was said to be selling his 4,500-square-foot, Francis Fleetwood–designed Montauk house to an art dealer for $10 million. Leaving behind 7 acres, Mr. Ratner reportedly wanted something less expensive.
He found it.
According to a source, he bought up a relatively modest three-bedroom oceanfront house off Long Beach's Arizona Avenue. He paid $2 million to a Manhattan couple, Seema Kalia and hedge fund manager Vedula Murti. "You know that sometimes people buy great houses and have no taste?" Ms. Kalia told The Observer about hiring the designer Jamie Drake in 2006. "Well, we have no taste, so we put it in the hands of someone who does."
Listing broker Susan Solomon would not comment on the deal. "It's an oceanfront piece of property and, you know—it's a big piece of property and it's on the ocean," she said. "What do you want me to tell you?" The place looks cozy, but probably needs real renovation. "You can come in and do a little; you can come in and do a lot," the broker said. "You want to knock it down, you can do that."
Might Mr. Ratner, who spent $6,965,000 last year on an East 62nd Street brownstone, build something Yards-proportioned? "If somebody wants to knock that house down," Ms. Solomon said, "they have to build something by the code."
mabelson@observer.com