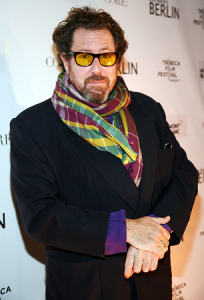 Palazzo Chupi, the semi-pink wonderland built by the yellow-spectacled artist Julian Schnabel, has finally sold off its triplex penthouse. Way back in early 2008, when Chupi was still West 11th Street's frothed-over mega-castle, Mr. Schnabel wanted $32 million for the unit, and $27 million for the duplex below.
The latter is now asking only $12.95 million. And the penthouse, according to a deed filed Friday, just sold for only $10.5 million. That's less than a third of its original tag.
The buyer is William J.B. Brady, the Palo Alto-based Credit Suisse managing director who bought a $15.5 million unit in the building three years ago. He did not return a message.
Palazzo Chupi was once talked about as a hand-built 17-story mecca for Mr. Schnabel and just four hand-picked neighbors. Bono and Richard Gere were both supposed to be living there among the antique Moroccan window dressings, 12-foot doors, seven-foot fireplaces, giant claw-foot tubs, cast-concrete kitchen countertops dyed chromium-oxide green, and a very large swimming pool.
But the singer never bought a place there, and Mr. Gere quickly put his back on the market.
What's worse, as the price of the penthouse triplex and duplex sunk melodramatically, Chupi became an icon for Manhattan's burst bubble. "Those were just the numbers that came about; there wasn't a lot of discussion," Peter McCuen, the listing broker for the triplex and duplex, once said about Mr. Schnabel's asking prices. "There wasn't anything so in-depth about it, really."