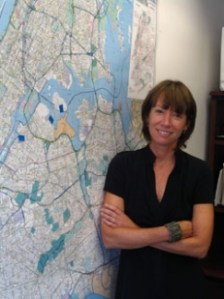 The City Council appears to be trying to stand up to Janette Sadik-Khan, the Bloomberg administration's relatively radical and innovative transportation commissioner who has rapidly closed down car lanes and replaced them with bike lanes and open space across the city.
Two separate bills that are slated to be heard before the Council's Transportation Committee on Thursday would throw new layers of public review at the Department of Transportation, forcing it to come before the local community boards with detailed plans before it implements any pilot initiatives or other major projects.
Their sponsors say the bills, Int. 1063 and Int. 1077, are a direct reaction to the fast-moving policies at DOT under Ms. Sadik-Khan, as the Council members say they've felt burned due to a lack of a thorough community review before projects took effect.
Few commissioners, let alone DOT commissioners, have visibly changed the city so quickly as has Ms. Sadik-Khan, who started in her job in mid-2007. Since, she's gained most of the attention for installing public plazas where there was previously open road, putting in partitioned bike lanes in the place of auto lanes, and wholly shutting down Broadway in Times Square and Herald Square, putting tables with umbrellas where a constant flow of traffic once ran.
The secret to her magic: the transportation commissioner has broad power to do as he or she likes with the roadways without subjective outside approvals, as, traditionally, such commissioners simply treated roads as roads. But by treating the roads more like canvases of open space that happen to accommodate cars, she is able to achieve quick, tangible results that are relatively low budget, and to go forward without approval from the City Council. (By contrast, the Council must approve any major land-use changes on private or city-owned land, making it far more difficult to quickly implement any major changes.)