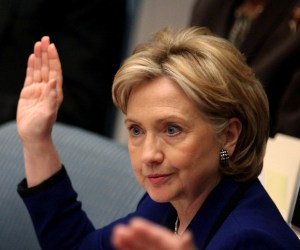 A few weeks after Bill Clinton laughed off a question about his wife's future presidential ambitions, Hillary Clinton answered the question definitively in an interview with The Today Show.
"Will you ever run for president again? Yes or no," Today's Ann Curry wondered.

"No," Ms. Clinton replied.

"No?" Ms. Curry asked again.

"No. No," Clinton said again. "I mean, this is a great job. It is a 24/7 job. And I'm looking forward to retirement at some point."
Mr. Clinton had previously said "we're not getting any younger," and assuming Ms. Clinton's boss, President Obama runs again in 2012, she would be almost 70 the next time the Democratic party is looking for a candidate.
But don't worry, you can still help our current Secretary of State pay off her debt from that last campaign over at HillaryClinton.com.