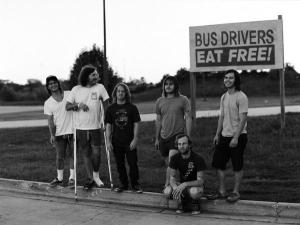 On Tuesday, October 20, Peter Silberman, the lead singer/guitarist of Brooklyn's The Antlers stood on stage and said to the crowd at Music Hall in Williamsburg, "Welcome to CMJ. Is anyone hung over yet?"
It was the first of five nights of CMJ, the frenetic New York music festival that may or may not matter anymore. CMJ was originally conceived as a sort of indie make-or-break showcase where bands would play a string of shows over the course of five days in the hopes of securing a record deal. Now we have the internet now for that kind of thing. But even at nearly $500 (only $300 for students!) for an official CMJ badge that will, presumably, get you into any of the 1,200 or so shows during the week, even with MySpace and Pitchfork acting as dominant tastemakers, CMJ still has its place.
"A lot of these showcases feel like commercials to sell stuff to the bands," said Thomas Redmond, the frontman for Washington D.C.'s True Womanhood. The trio, who play dark, ambient guitar music mixed with elements of punk and jazz, just released their first digital 7". They played the opening night of the festival to a half-filled Cameo Gallery, a small performance space in the back of a Williamsburg restaurant. "I've been hearing a lot about the mythology of CMJ. Bands come here to get signed, but if you're working hard enough, it's going to happen anyway," Mr. Redmond said while we talked outside the venue.
"Crystal Antlers, Crystal Antlers!" the rest of the band shouted.
A scruffy guy with a half-smile walked up with a bass guitar strapped to his back. It was Johnny Bell, the bassist and singer for Crystal Antlers, a small-fry group with good reviews from Long Beach. They played six shows during CMJ.
"It's an excuse for these people to run up the company credit cards," Mr. Bell said. His band is signed to the now-defunct Touch & Go Records, so a new record deal would help. But he said that the chance of getting signed at CMJ "all depends on fate."
"In terms of having fun," Mr. Redmond cut in, "It's totally worth it."
I had a press badge, which worked, sometimes. More than once, at the larger venues, I heard "No more badges!" from enormous security guards outside places like the Music Hall of Williamsburg, Bowery Ballroom, and B.B. King's Blues Club in Times Square, where many of the week's larger hip-hop acts played.
If getting a record deal was a matter of fate, so was seeing some good music at CMJ. I took precautions, trying to see bands that already had some buzz, but it wasn't a foolproof strategy. After sneaking into the Atlas Sound show at Music Hall of Williamsburg—one of the most hyped bands of the week—I left early out of boredom. They are critical darlings, but, as the group's singer, Bradford Cox, crooned, "My halo burned a hole in the sky," over a piano melody, it was time to go.
That was only day two. On the third, it was time to take a dose of CMJ's more commercial side and visit The PureVolume House, a sort of safe-haven for artists and press around the corner from Bowery Ballroom. Inside, on the first floor, people played the video game Rock Band ten feet away from people jamming on real instruments. The symbolism seemed too obvious, so I retreated upstairs to the "Artists' Lounge," where I was once again refused entry, this time by a petite blonde girl named Jessica Weinschenk, who told me my press badge wasn't good enough for the second floor. Eventually, to my satisfaction, Ms. Weinschenk's boss corrected her.
"It's just really disorganized," Ms. Weinschenk told me.
Inside there were people getting massages, lounging on expensive leather couches and getting "rockstar haircuts" in a makeshift barbershop in the back room. Nearly everyone sipped on free liquor from the CMJ sponsors, and Blackberries and iPhones close to their faces, while top 40 radio played through the speakers. It looked like somebody had read about rock and roll in a book, and then designed the space accordingly.
"I haven't left here in the last four days," said Josh Rowe, who handles publicity and A&R for PureVolume. He was relentlessly squeezing a blue stress-ball and standing in a pile of someone else's hair (the non-rockstar part). "I destroy these things," he said, presumably about the stress ball.
I ran into Nick Gaynier, the singer and guitar player for a band called Appomattox from Brooklyn.
"You just try to take what you can get from it," he said of CMJ. "You order several drinks at once from the bar, complain that there's no pizza, and get a haircut. It improves morale." His band had one show booked on the last day of CMJ, but they still got all the perks (stress?) of a badge.
Meanwhile, the festival's panel discussions—largely unpopulated exchanges between music execs (there were about 60 of them over the course of the week)—ranged from "But How Will I get Paid? Reimbursement in a Digital World" to "Recession-Era Dealmaking."