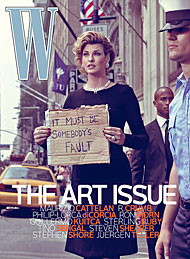 It's the final week of October, and cuts at Condé Nast are coming to an end. But there's one last piece of news that Condé Nast insiders have been waiting for: Which magazines will reduce their publishing schedules? Earlier this month, CEO Chuck Townsend told The Observer that four magazines were mulling the option.
For the moment, at least, it appears each monthly has opted to hold steady.
Two insiders told The Observer that it is unlikely that any monthly magazine will announce a reduction this year.
"It's now on the back burner," said one source.
Mr. Townsend said in an interview earlier this month that each magazine could decide on its own whether to reduce its publishing schedule. W has been the magazine most often expected to cut back—along with, as the New York Post reported, Lucky and Allure—but none of those magazines have requested a reduction.
(Golf World, however, will reduce its publishing schedule from 42 issues to 40 in 2010).
One source said that it's likely we'll go through all of 2010 without any reductions for the monthlies. That, obviously, is something that can change at any point next year.
So with layoffs coming to an end this week, it looks like Condé Nast can look forward to a relatively stress-free final two months of the year.