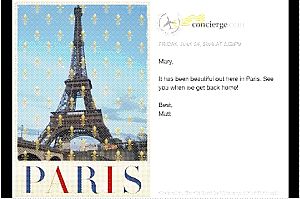 Just a week after announcing their new GQ iPhone app, which will cost $2.99 per issue and is expected to be in the iTunes store by Nov. 18, Condé Nast announced another new application for readers on the go. But this one is free and available now! It comes from Concierge.com, the online home for Condé Nast Traveler. Users can download "Postcard by Concierge.com" for free, then use it to turn iPhone pics into personalized postcards with themed frames. There are 20 different overlays to choose from and they might have words ("Greetings!" "Stuck at the airport!") or pictures on them.
When the recipient opens the postcard, they'll see where the user originally snapped the photo and there will be a link on a map so they can check out Concierge.com's travel guide for that destination (if there is one). Users can also opt-in to share their postcard in a gallery on the Concierge.com website, which is here.
Since the app has an ad revenue model, Westin is signed on as the sponsor at launch, and their ad will show up when photos are being loaded onto the site.
The new app is just one of many that Condé Nast Digital has in the works. Along with building the technology to get magazine issues like GQ on the iPhone and other publications on more mobile readers, Conde Nast Digital is also working on service-y and location-based applications like this one. We smell a GQ City Guides application in the works. Senior product manager Chris Gonzalez, who worked on the GQ, Epicurious and Style.com apps, told the Observer that "tons of other apps" are in the works. "Every publication is asking, 'When can you make one for my magazine?'" he told the Observer.