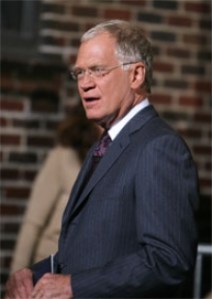 Today, two big, splashy stories: celebrity blackmail and mobsters.
"Do you feel like a story?" David Letterman asked his audience last night. The Times explains that he went on to relate the tale of a recent extortion attempt in which a blackmailer demanded $2 million not to reveal Letterman's affairs with female Late Show employees. The suspect, who was arrested Thursday on charges of attempted grand larceny, is an employee of 48 Hours.
The Post gives the suspect's name as Robert Joel Halderman in its account of the "Sextortion" incident. (Here's what appears to be his Facebook page.)
The Daily News, for their part, adds that he is an Emmy-winning producer. The paper also reports that fans, for the most part, are not very bothered. Though a few of the would-be audience members in the ticket line expressed dismay, most seemed unfazed. Kelli Lageschulte of Iowa had this to say:
"I wonder if he told jokes while they were having sex," she said with a grin. "He is, after all, very funny. Anyway, everybody's doing it."
What else is everybody doing? Well, if they're members of the Lucchese crime family, they're getting arrested for bribery and racketeering.The Post story on yesterday's mob bust, filed yesterday afternoon, put the arrest count at 29–but by this morning the Daily News was saying 49 total, on "two separate bribery and racketeering schemes."
Several of the arrested mobsters had infiltrated the Building Department, not that corruption in the Buildings Department is totally unprecedented. The Times explains the department's legal difficulties, mob-related and otherwise.
For example:
In 2002, 19 of the city's 24 plumbing inspectors — including the chief inspector and the top supervisors in the Bronx, Brooklyn, Manhattan and Queens — were charged with extorting hundreds of thousands of dollars to approve projects throughout the city.