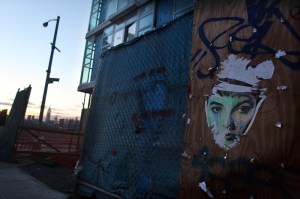 Bernie Madoff's "buddy" and Ponzi-scheme beneficiary Jeffry Picower drowned Sunday afternoon in his swimming pool, reports the Post. Formerly a lawyer and accountant in New York, Picower lived in Palm Beach. He faced a $7 billion suit from Madoff's victims.
Times reporter Colin Moynihan spent Sunday on an adventure through lower Manhattan. He trailed a group of artists who were whitewashing wheat-pasted advertising posters and replacing them with new images. Their handiwork was short-lived:
Within hours, men driving pickup trucks with New Jersey license plates put up new ads where the artists had obscured the old ones.

One of those men, on West 25th Street, refused to identify himself or the company he was working for, instead responding to an inquiry from a reporter with an epithet, and the directive, "Take a walk."
Some of the artists wore disguises–one, "who gave his name as Gaia, donned a disguise consisting of a black eye mask and a plastic bag that he pulled over his head like a hood"–but such measures proved inadequate. Five of the project's participants were arrested.
And Crime Waves hit close to home this weekend: in wee hours of Sunday morning, police detonated a possible "Drano bomb" on South 3rd Street in Williamsburg. Investigators were uncertain whether the bottle of Drano and aluminum was makeshift explosive device or "a legitimate cleaning mixture," reports the Daily News.
In retrospect, this explains the emergency vehicles and police tape that I encountered upon returning home Saturday night. Others who were following the situation more closely expressed concern:
"I feel really unsafe now," said Kristen Alongi, 20, who lives on the block. "I guess this is just another wakeup call. People who say that this stuff can't happen in their neighborhood, but it can."
I myself was untroubled, and stayed up late eating ice cream.