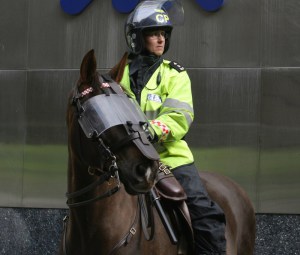 Unlike Karla Giraldo, Queens Democrats are "expected to dump Monserrate," reports The Times. Assemblyman Jose Peralta has announced that he will run for Hiram Monserrate's seat regardless of whether the senator resigns, and Queens Democratic Party leader Joseph Crowley will endorse Peralta at the party's pre-election dinner. The Times notes:
It is extremely rare for a party to seek to unseat one of its own incumbents, even those dogged by scandal. Mr. Crowley's move against Mr. Monserrate — the political equivalent of an excommunication — reflects the growing frustration among many Democratic officials with Mr. Monserrate, who has rebuffed calls that he resign.
The move may be rare, but no one seems to expect many objections:
"I get calls in my office from people who are angry that he is representing us," said Mr. Peralta, who was first elected in 2002. "You need someone who is focused on the district and not focused on legal issues or soap opera issues."
The article points out that Crowley's endorsement is likely to give Peralta the support of NOW and Naral, although presumably these groups were not super fond of Monserrate at this point anyway.
NY1 political anchor Dominic Carter will be in court today on assault charges stemming from a violent fight with his wife last fall. He apparently has a long history of aggression, which the Post extensively delineates. However, his outbursts were not confined to the home. In 1997, reports the Post, Carter was "told to take a few days off after getting into a shoving match with an editor"at NY1.
And Mike Sheehan–former Fox TV reporter and former city cop–has pleaded guilty to hitting a police horse while driving drunk, says the Daily News. In addition to losing his license, Sheehan received five days of community service and a $500 fine; the horse received "cuts and bruises to a hind leg."