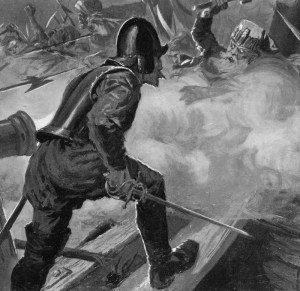 Garfield Dixon, a Brooklyn reggae artist who goes by Major Mackerel, suffered wounds to the head and arm after a neighbor attacked him with a 26-inch sword. According to an AP report in the Post, Dixon's girlfriend, Novia Watson, "says that the neighbor said he was angry that Dixon was harassing his wife. But Watson says that Dixon never messed with her."
The Daily News provides context for the story, explaining that Dixon "released several albums in the late 1980s and early 1990s, and gained fame in reggae circles for hits like 'Dutty Bungle' and 'Sorry Fi Botha.'" They also put the length of the sword at two feet. The Times concurs.
Elsewhere in the borough, the Post continues its pursuit of former Corrections Department rabbi Leib Glanz:
In June, the Post exposed how the politically connected rabbi organized a bar mitzvah last December for the son of notorious fraudster and longtime fugitive Tuvia Stern in the downtown Manhattan jail known as The Tombs. The soiree had dozens of non-inmates as guests, featured catered kosher food and a live performance by popular Orthodox Jewish singer Yaakov Shwekey.
This weekend, the paper discovered that he uses a Uniformed Firefighters Association placard to park wherever he pleases, presumably in case of an emergency Judaism situation.
In Queens, FBI agents spent 16 hours searching Elliot Madison's home. Madison was arrested last month while using a police scanner and Twitter to relay police movements to protesters at the G-20 summit. The Times says that he is "among the first" to face criminal charges while sending such information electronically. Madison, a social worker and self-described anarchist, called the search an effort "to stifle dissent," and a judge has ordered authorities "to stop examining the seized materials" following objections form his lawyer.
And in crime prevention: Homeland Security funds will be used to bring "Ring of Steel" security to Midtown, expanding the surveillance currently in place in Lower Manhattan to include to area between 30th and 60th Streets. "We cannot afford to be complacent," said Mayor Bloomberg in his announcement. Meanwhile, says the Times, "behind the mayor, a 40-foot video wall displayed maps, incoming data from a police precinct and more than a dozen video streams, many of them showing tourists taking photographs on a sunny day."
Some New Yorkers have mixed feelings about the added surveillance, says the Daily News:
"I'm not going to be able to kiss my girlfriend now," quipped Yavuz Alemdar, 25, a pedicab driver in midtown. "I don't like the idea of being watched all of the time."