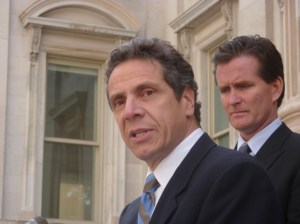 Andrew Cuomo is expected to endorse fellow Democrat Bill Thompson today, possibly at an event in the Bronx, according to a person familiar with the event.
The endorsement comes late in the campaign, and it's unclear if Cuomo, like other elected who have endorsed Thompson, will be any more critical than is absolutely necessary of Thompson's opponent, Michael Bloomberg.
The endorsement today may shed more light on the brewing governor's race next year, where Cuomo is expected to challenge David Paterson.
Paterson endorsed Thompson last month and, along with his parents, Basil and Portia, has contributed $12,900 $16,000 to Thompson's campaign.
Cuomo, who is throwing a fund-raising event for himself on Election Day while the polls are still open still open, has not donated to Thompson's campaign.
Presumably random fact: Thompson and Cuomo share a fund-raiser in Cindy Darrison.
Also, Bloomberg has said he would likely stay out of next year's statewide races, but when asked during a debate two weeks ago if Rudy Giuliani, a Republican, would be a good governor, Bloomberg said yes. Thompson said no.
And: During a debate during the Democratic mayoral primary, asked a yes or no question by New York 1's Dominic Carter about whether he's support David Paterson in a gubernatorial primary, Thompson said yes.