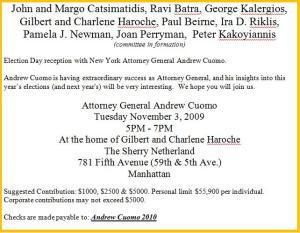 It's not a victory party, but Andrew Cuomo is having a fund-raiser on November 3, which is Election Day.
"Andrew Cuomo is having extraordinary success as Attorney General, and his insights into this year's elections (and next year's) will be very interesting," the invite says.
Cuomo reportedly has sent word out that he's planning to run for governor, and is staffing up.
UPDATE: A reader notes that the party isn't just taking place not on Election Day, but while the polls are still open. Not exactly a shot in the arm for Democrat Bill Thompson's effort that day.