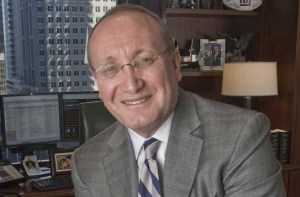 The Observer has obtained the memo departing CEO Bruce Mosler emailed Thursday to the Cushman & Wakefield staff. Earlier Thursday, The Observer broke the news that Mr. Mosler, after nearly five years as president and CEO of the commercial real estate brokerage, would assume the co-chairmanship of the board.
The memo is below:
To my colleagues: I am very pleased to announce that as of January 1, 2010, I will transition to Co-Chairman of the Board, alongside John C. Cushman III. The Board of Directors has established a search committee to select a new CEO, and I will continue in that capacity until a successor is named.

As the firm enters its next phase of development and growth, I am looking forward to new responsibilities and to remaining an active member of the Board of Directors. Both Exor [Cushman's corporate parent] and I believe this will allow me to have the greatest positive impact on the firm's success, contributing to the strategic direction of the company while working directly with clients and growing our brokerage business around the world.

I want to share how proud I am of the many accomplishments we have achieved together over the last five years. Specifically, I am proud of our successful increase in employee ownership, and our identification of a new majority shareholder with the sophistication and resources to grow the company.

I am also proud of our partnership with our Regional CEOs and business line leadership, and the work that we have accomplished to strengthen the business model and brand value in markets throughout North and South America, Europe and Asia.

There is no doubt that we have also faced our share of challenges. In response, we have strategically realigned the company to prepare for future growth. I am positive that these changes have strengthened the platform and have positioned us as the premier global firm as the market begins to recover.

As we look to the future, our platform today is larger, stronger and more integrated than ever before, and I am incredibly motivated by the prospects that we have ahead of us.
drubinstein@observer.com