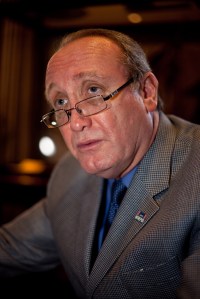 Cushman & Wakefield, one of New York's biggest commercial real estate brokerages, is looking for a new chief executive. Bruce Mosler, its CEO and president since January 2005, has been appointed co-chairman of the firm's board, alongside John Cushman III. Cushman & Wakefield made the announcement Thursday.
Mr. Mosler, 51, will focus in his new role on Cushman's global brokerage business, developing major accounts and serving key clients, according to information provided to The Observer by the firm. He'll remain chief executive and president until a successor is found. Executive search firm Spencer Stuart has been retained for the CEO hunt.
The Observer sat down with Mr. Mosler in Cushman's Black Rock headquarters in June to talk about a commercial market clearly in transition. Mr. Mosler, an avid fisherman who played football at Duke University, seemed to predict the office-leasing boom that hit Manhattan in July and August.
"I think that what we're now seeing is much more serious activity and interest in space than we've had perhaps in the last six months," he said in answer to a question about commercial real estate post-Lehman. "I think it's due to a couple of important dynamics, the first being, nine months ago, we were still dealing with panic still in the system: Was the financial system going to survive? Was the financial system going to recover? And I think a lot of those questions have been answered. … Our banking system is going to be O.K. and that's important."
tacitelli@observer.com