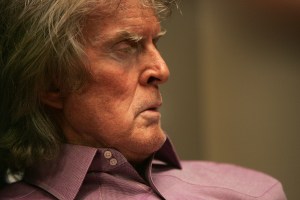 Today, a little after 7:30 a.m., Don Imus told his listeners on WABC and viewers on the Fox Business Network that one of his top scheduled guests this morning, Lou Dobbs, had cancelled at the last minute.
Why?
Mr. Imus wasn't entirely clear. But he suggested that Mr. Dobbs' cancellation had to do with a broader phenomenon–namely that CNN and MSNBC executives were banning their talent from appearing on his show.
Have MSNBC and CNN executives, in fact, implemented such a policy?
An MSNBC spokesperson declined to comment. But a source at the network told The Observer that Imus viewers are unlikely to see anyone from MSNBC on the show anytime soon, if ever.
As for Mr. Dobbs' absence on Imus today, a CNN spokesperson confirmed that the network did not give approval for the booking, eventually resulting in the cancellation.
Last week, The New York Times reported that Mr. Dobbs recently dined with Roger Ailes, the head of Fox News and the Fox Business Network, touching off speculation that the newsman, who currently anchors the 7 p.m. hour on CNN, might soon jump ship to the rival news organization.
"Generally our anchors aren't appearing on other networks unless they are promoting a book or a CNN special or something of that nature," said a CNN spokesperson. "But it's on a case by case basis."
UPDATE: Earlier this month, Hotline reported that CNBC's Charles Gasparino had cancelled an appearance on Imus, and reported at the time on various network policies, regarding future Imus bookings.