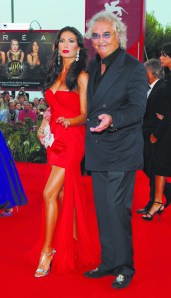 Of all the huge indignities suffered by deluxe pieces of Manhattan real estate this past year, not even Julian Schnabel's fuchsia Palazzo Chupi has had more to put up with than the Plaza. There was the Russian oligarch who sued over his $53.5 million penthouse's low ceilings and ugly drainage grates; the broker who said she got trapped overnight in a 14th-floor garbage room and "cut her fingers to shreds trying to claw her way out"; and the third-floor State Suite that just came back on the market after a huge deal fell through.
It's enough to keep tongues clucking for at least a few more years. In the meantime, a couple of big things at the building are going quite well.
The Italian businessman and disgraced Formula One racing mogul Flavio Briatore has found a renter for his 5,850-square-foot, 10-room, four-bedroom, three-unit apartment on the Plaza's eighth floor, according to broker Giampiero Rispo. Mr. Rispo wouldn't comment on the renter or the deal, except to say that an American who works in finance has agreed to pay only a tad less than its $65,000-per-month asking rent. Pending board approval, it will be one of the biggest rental deals of the year.
Mr. Briatore's apartment, which had also been on sale for $38 million, is empty. "Actually, he's never even seen it," Mr. Rispo said. "It was an investment; he relied on my representations." According to records, the main section of the apartment cost him $24.6 million, but $2.1 million was spent on additional space. "When we went to look at floor plans, we needed a room for maids, so we were thinking, 'Where are we going to put the maids?' I said, 'You know what, these rooms are too grand, too big, too beautiful, too precious, to use for personnel. … Why don't we buy another apartment on the same floor, but facing the rear?'"
Mr. Briatore, a dapper 59-year-old known in America mostly for fathering Heidi Klum's first child, was the managing director of Renault's Formula One racing team until last month. Renault did not contest charges that its driver had been ordered to crash during the Singapore Grand Prix, and Mr. Briatore has been effectively banned from the sport for life.
He also owns a penthouse at One Beacon Court, which is on the market for $25 million. "Beacon Court is an Aston Martin, sporty, and the Plaza is more classic, like a Bentley," Mr. Rispo explained. "He has both."
Back at the Plaza, a few floors up, there's more good news. The New York State Supreme Court just dismissed a lawsuit filed by the would-be buyer of Penthouse #2001, who had wanted his $6.5 million deposit back, plus legal fees and millions in damages. The buyer, said to be a young hedge fund manager, had complained of fraud and misrepresentation in September 2008, just after the Russian oligarch's suit, which made things look doubly bad at the building. "The legal floodgates are opening," said the Post.
But the Plaza can keep his $6.5 million deposit, the court says, thanks to a disclaimer in the sales agreement about marketing brochures. The plaintiff's lawyer did not return messages, but a Plaza spokesperson said the penthouse will be coming back on the market this year.
mabelson@observer.com