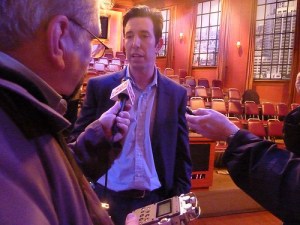 Dan Doctoroff says don't measure Bloomberg's rezoning for short-term goals.
Bill Thompson said the Village Voice article about his mortgage isn't true, and that the Times investigated, but didn't run a story on it.
Bloomberg endorsed Republican Rob Astorino against Democrat Andy Spano in Westchester.
Bloomberg does his interview with Jewish Week via email and a spokesman.
Mispacha goes for Bloomberg.
Bloomberg, in Russian.
Bloomberg is undecided about fracking.
Michael Barbaro says Bloomberg is recycling a 2001 ad.
Bette Middler will honor Bloomberg at the Waldorf.
What is with Matthew Hiltzik and Glenn Beck?
The Court of Appeals is taking more criminal appeals.
A hearing on tax collection was packed.
Roy Edroso reminds me George W. Bush claimed to have a mandate also.
The art on Steve Kornacki's story sums up the 2009 race so far.
Michael Reich wants Monserrate to do everyone "a favor" and resign.
Gabe Pressman watched the debate.
John Catsimatidis gets behind Andrew Cuomo, no matter what that means.
Manufacturing space is being gobbled up by retail stores. Montgomery Burns was in the house last night.
So was a giant Bloomberg truck.
David Casavis makes it onto the Times radar, finally.
State Senator Jose Serrano is talking about arts and culture upstate.
Albany is looking for a new police chief.
A happy veto message from the Governator.
Bill DeProspo went for Rick Lazio.
State Senator Carl Kruger told David Paterson he's not coming around to all his proposed spending cuts.
People supporting same-sex marriage were outside a Republican State Senate fundraiser.
A conservative group tries to damn Dede Scozzafava with liberal praise.
More people are calling on other people to drop out of the race.
Lots of national groups are pouring in money.
A left wing group is attacking Doug Hoffman's ties to the Club for Growth.
The recounts will likely end up in court.
Pictured above is Bloomberg's campaign manger, Bradley Tusk, conforming to Kevin Sheekey's dress code, and below is a video the NRCC did about Bill Owens with a comic book motif: