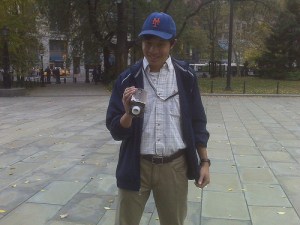 Rudy Giuliani's first visit to Staten Island wasn't for Michael Bloomberg, notes Peter Spencer.
An anti-Bloomberg poster by Union Square and 17th Street.
Thompson's campaign insists there's good news in the latest poll numbers.
Pataki stumped for Astorino.
Next stop: Doug Hoffman.
Video of Pataki's endorsement.
Ben says Joe Biden's stumping for Bill Owens shows how badly the Dems want the seat.
NY-23 is holding Bob Gorman hostage.
Rick Karlin posits a "Tedisco scenario."
Irene Jay Liu offers her analysis.
Did Dede dump Moses and Catalfamo?
The Republican mayor of Plattsburgh backed Hoffman.
Andrew Cuomo's girlfriend will bring "great garnishes" to the Executive Mansion.
A preview of this week's New York NOW, where you can see Jimmy talk about NY-23 and David Paterson.
Politico readers side with Garin over Wolfson.
Jerry Hart looks at other mayoral races around the country.
Anthony Weiner, football hero.
Al D'Amato used the f-word to tell an Ed Koch story.
Lance Armstrong signs an autograph as Bloomberg checks out pumpkins.
Two Rupert Murdoch papers get married.
And brings an imposter to Azi's desk.