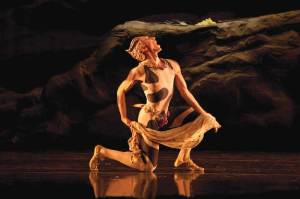 This year, City Center's tantalizing annual dance smorgasbord (mishmash?) played it safe. It had a respectable theme—celebrating, along with everyone else, the 100th anniversary of Diaghilev's Ballets Russes' history-changing descent on Paris—and it anchored its five (not its usual six) programs with proven crowd- pleasers. What, for instance, is there left to say about the Trocks' Go for Barocco, Peter Anastos' hilarious parody of/tribute to Balanchine's great Concerto Barocco? Its subtle (and sometimes unsubtle) distortions of Balanchine are affectionately deadly, and the guys gave it their all. (Les Ballets Trockadero de Monte Carlo don't know how to give less.)
Savion Glover made it clear yet again that he has no interest in anything but his brilliant footwork; he's certainly not interested in welcoming or pleasing the audience—he's the Miles Davis of tap. There was no shape to the performance—nothing but Glover's astonishing virtuosity. His apparent disaffection is beginning to morph into weird: Think Bobby Fischer or Glenn Gould. The piece was called The StaRz and StRiPes 4EvEr for NoW.
Paul Taylor's Offenbach Overtures has lots of zip and charm, and its pair of dueling soldiers in red who end up starry-eyed about each other while their disgusted seconds take up the quarrel is nonstop funny. Maybe, though, it could do with one overture less.
Diversion of Angels, Martha Graham's purest and perhaps most lovable work, had its finest performance in years. The Graham company has some strong new dancers; the old hands were at their most committed; and Diversion was radiant. This was good news for those of us who count on the company to survive and to flourish.
I can't tell you about the Ailey's performance of Revelations, since I gave myself a sabbatical: It'll be on display 20 or so times during the company's upcoming season. Everyone loves Revelations, and I do, too, but enough is enough.
THE BALLET RUSSES intensive proved to be a mixed bag. Did we need another The Dying Swan (even Vishneva's) or another wan Spectre de la Rose? It was good to be reminded of the beauty of Bakst's set for Afternoon of a Faun, and of Nijinsky's revolutionary dance vocabulary, but the Boston Ballet performance didn't really come off. The problem was partly due to the Faun, danced by a young man whose name—Altankhuyag Dugaraa—was more interesting than his performance. I sensed no erotic charge. They sent a boy to do a faun's job.
More disappointing still was Ballet West's Les Biches, the famous piece by Bronislava Nijinska, which takes place at a soignée '20s party, with three athletic boys flexing their muscles (they don't have any brains to flex) for the amusement of assorted women, a sophisticated hostess and "The Page Boy" (sometimes "La Garçonne"), who's coolly flaunting his/her notorious androgyny. This is the semi-lesbianic ballet that titillated Europe's in-crowd in 1924; today, it's a period piece. The choreography remains fresh, and the Ballet West production was carefully staged and coached, but these dancers have no sense of the louche flavor of the '20s, no sense of the perverse. Les Biches may have gone over the cultural cliff.
Nijinska's other most famous ballet, Les Noces, wasn't exhumed but rather was replaced by Les Grands Ballet Canadiens de Montréal, using a two-piano version of Stravinsky's great score. Now called simply Noces, it's the work of the Belgian choreographer Stijn Celis, who's all over Europe and has been in residence with Cedar Lake here. When the curtain went up, I whispered to my date, "It's a bad sign when there are lots of benches on the stage." Where benches lead, Eurotrash is sure to follow. And there were other symptoms as well, notably the provocatively klutzy billowy white tulle skirts that made the girls look like demented ostriches. But there was something sincere and stimulating in the high-pressure dancing—even the constantly moving benches added to the excitement. Better this than a lackluster performance of Nijinska's version, or Jerome Robbins'.