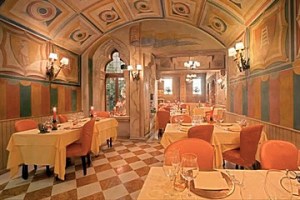 Fair Verona, known for it's vibrant arts—annual fairs, shows and of course operas in the Arena—is also the spot for some tucked away dining gems featuring classic dishes of the Veneto region along with modern interpretations. But, you will definitely need the help of an insider to find your way to one of these tables. I was lucky to have Louise Aaronson, just back from Verona & Matteo Merighi, a resident, let me in on some of their faves.
12 Apostoli
Verona, Italy
Walk into the 12 Apostoli and you're immediately enveloped in that classic old-world Italian feel—archways, ornately tiled floors, fresco'd walls, etc. In fact, it does have some historical significance as the wine cellar contains remains from Roman and Medieval times, like the podium from a holy temple dating back to 50AD. My Insider Michela Lanteri says that any pasta dish with pumpkin is a must! NB: Closed on Sunday evenings and all day Monday.
www.12apostoli.com | Phone: +39 045 596099
Vicolo Corticella San Marco, 3 | Verona 37121 Italy
Locanda '800
Negrar, Verona, Italy
Just across the way from La Mogioca. A wonderful dinner on the patio with excellent service, says my insider Louise Aaronson.
Phone: +39 05 600 01 33
Via Moron 46 | Negrar, Verona 37024 Italy
Villa Renzi
Busa, Negrar, Verona, Italy
THE place for pizza and pasta. Informal, lots and families. Just really good food. This is a very popular spot for the locals, so make a reservation says Louise. NB: Closed on Wednesdays.
Phone: +39 045 750 1072
Piazza San Vito, 12 | Busa, Negrar, Verona 37024 Italy
Ristorante Torcolo
Verona, Italy
Super convenient spot—just around the corner form the Arena di Verona. Ristornate Torcolo is nice after a day of perusing Verona's historic spots. Simple room, simple furnishings, simple menu, but delicious. Homemade pastas, like the sinful Pappardelle al Tartufo nero e Formaggio Monte Veronese and regional dishes like Baccala alla Veneta con Polenta are classic Italian comfort food.
www.ristorantetorcolo.it | Phone: +39 04 580 337 30
Via Cattaneo 11/B | Verona 37121 Italy
Trattoria alla Ruota
Negrar, Verona, Italy
Great food and a terrific terrazza with view of the Valpolicella—the viticultural zone in Verona says local Matteo, son of the proprietor of La Magioca. Save room for dessert, the La Fantasia di cioccolato Alla Ruota, is a killer.
www.trattoriaallaruota.it | Phone: +39 045 7525605
Via Proale, 6 | Negrar, Verona 37024 Italy
La Bottega del Vino
Verona, Italy
One of the oldest restaurants in Verona, La Bottega del Vino has an incredible list of wines (one the top 3 in Italy), says Matteo. The food is very good and so are the prices—around 40€ or 50€ plus wine—a steal.
www.bottegavini.it | Phone: +39 045 8004535
Vicolo Scudo Francia, 3 | Verona 37121 Italy
Al Pompiere
Verona, Italy
A trattoria typical of the area, Al Pompiere is located on a small road near Piazza delle Erbe. The antipasti are fantastic, especially selection of Salami, prosciutti and cheeses, I hear from Matteo. Additionally, you'll find the more traditional main course dishes as part of the menu.
Phone: + 39 045 8030537
Vicolo Regina D'Ungheria, 5 | Verona 37121 Italy
Pescheria I Masenini
Verona, Italy
Matteo tells me that Pescheria I Masenini was just opened by the chef of another Verona Restaurant, one that holds 2 Michelin stars. This is the spot to head to for seafood dishes in a very charming atmosphere.
Phone: + 39 045 9298015
Piazzetta Pescheria, 9 | Verona 37121 Italy
Al Cristo
Verona, Italy
For a departure from the classic, Al Cristo is a cool/hip spot. The menu is all about blending the traditional regional flavors with the modern trends. Sushi (yes sushi!) is terrific!
Phone: + 39 045 594287
Piazzetta Pescheria, 6 | Verona 37100 Italy
Suzanne Aaronson, Co-founder of Suzanne's Files, is our Travel Curator. Stay in-the-know on her latest finds and insider tips by signing up to receive Notes from Suzanne's Files, a free e-newsletter.