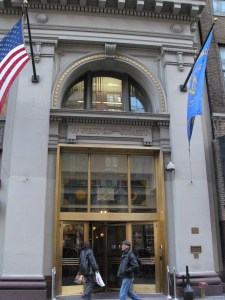 While Dan Brown may have single-handedly reignited the world-domination conspiracy theories that cling to them, the Freemasons aren't exactly backpedaling from their depiction in Mr. Brown's new thriller—in fact, they're hoping it will revive a dwindling national membership. In ornately decorated lodges in cities across the country, Freemasons are putting their pomp and rituals on display, giving public tours and attempting to shed their cultish reputation.
Among their ranks is the Masonic Hall of New York at 71 West 23rd Street, which gives daily tours and displays, among other artifacts, the Bible on which perhaps the most famous Freemason, George Washington, was sworn in as president in Lower Manhattan.
The Hall's trustees also rent out several floors of the building. In a display of real estate's uncanny power to merge the very old with the very modern, Internet solutions provider Comvision is leasing 13,579 square feet.
Herb Goldberg and David Schlamm of City Connections Commercial brokered the 10-year deal on behalf of both Comvision and the Masonic Hall.
egeminder@observer.com