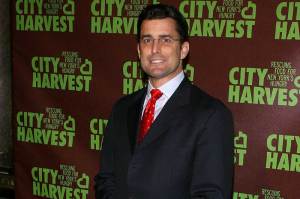 For 18 months following his abrupt departure from WNBC-4, courtesy of a buyout in the summer of 2008, Rob Morrison, the station's erstwhile morning news anchor, wrestled with the question of life after journalism. He wrote a children's book about his wife's cat, Happy. He started a blog, "Daddy Diaries: Confessions of a Stay-at-Home Anchorman," on the Huffington Post. And he begrudgingly explored becoming one of those vaguely confusing media PR-consultant types, which are all the rage in 2009.
The blog sort of blew up.
Last month, Mr. Morrison received a phone call from Bruno Del Granado, the CEO of a large European production company called Zodiak Entertainment. Mr. Del Granado said he'd been reading Mr. Morrison's blog, and would like to turn it into a documentary. Mr. Morrison liked the idea and started writing a treatment.
But then earlier this month, a funny thing happened to Mr. Morrison on his way to becoming the standard-bearer for unemployed dads around the planet. He found a job. In late September, station managers from WCBS called Mr. Morrison and told him they were looking for a weekend anchor. It didn't take long for Mr. Morrison to sign on.
In recent weeks, Mr. Morrison has returned to the anchor chair, going head-to-head with the station that not so long ago got rid of him. "I'm not trying to beat up Channel 4," said Mr. Morrison. "But thank goodness that Channel 2 is being true to a local news mission. It would be a shame if everyone just gave up on local news."
As for the Daddy Diaries documentary, Mr. Del Granado recently told The Observer that he's putting together a budget and a timeline for the project. Mr. Morrison's sudden onset of employment has not jeopardized the project. "At first we were thinking this should be about Rob and his life," said Mr. Del Granado. "But at the same time there are so many other examples of men who are going through the same thing. Whether Rob's involvement is from the narrative perspective or the script perspective, that's all to be determined."
Happy endings are a rarity in the media profession these days. But in an added bonus, WCBS hired not only Mr. Morrison but also, shortly thereafter, his wife, Ashley, a TV journalist, who had been laid off from Bloomberg News back in February.
"We're both happy that we stuck with journalism and showed some faith," said Mr. Morrison. "There were times when we didn't know if either of us would be able to get back into the business. That we've both been able to do it at the same time at the same place is beyond fortunate."
fgillette@observer.com