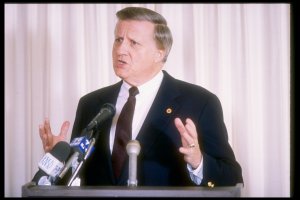 George Steinbrenner is headed up to New York for Game One of the World Series tomorrow night, and guess who he'll get to read about in the morning papers?
It's John Dowd, the investigator who got the Boss banned from the majors for life back in 1990. Mr. Dowd, an attorney for Akin Gump Strauss Hauer & Feld, was hired yesterday by Raj Rajaratnam, the Galleon Group head accused of insider trading.
Mr. Dowd was the lead investigator for baseball commissioner Fay Vincent in the late 1980s and early 1990s, and it was Mr. Dowd's 225-page report that got Pete Rose banned for life in 1989. (Mr. Dowd has established a website, DowdReport.com, where the report is posted along with his own bio.)
A year later, he issued a report on Mr. Steinbrenner that said the Yankees owner paid a Bronx man $40,000 to dig up some dirt on outfielder Dave Winfield, which was enough to convince Commissioner Vincent that the Boss should be banished from the game.
Before become baseball's investigator, Mr. Dowd had represented John McCain in the Keating Five Scandal, and he went on to represent Monica Goodling, the Justice Department attorney who favored hiring political disciples of George W. Bush.
"John's experience is unimpeachable, and it will take that here," Scott Fredericksen, a partner at Foley & Lardner in Washington, told Bloomberg of the Rajaratnam case.
Mr. Steinbrenner would seem to disagree. At the time of the investigation, an unnamed confidant of Mr. Steinbrenner told The Times: "It was very biased and there are a lot of things that show up in terms of the bias in the Dowd investigation."
Mr. Steinbrenner was reinstated in 1993.