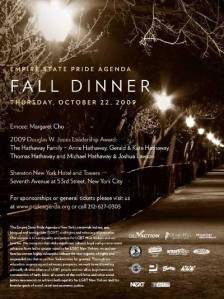 ALBANY—September has come and gone, and the State Senate still has not acted on same-sex marriage legislation. Advocates of the bill do not want to let October pass.
"The Senate needs to come back and debate this bill and have an up-and-down vote on this bill in October," Alan Van Capelle, executive director of the Empire State Pride Agenda, told me by phone. "This community was ignored in the AIDS crisis in the 1980s. We know what it's like to be ignored."
He added: "There are 62 individuals in this state who are privileged to serve as New York state senators and have the responsibility to debate this bill and provide it with an up or down vote. Anything else would be disrespectful to the Gay and Lesbian community."
Same-sex marriage was one of many issues buried under the turmoil of a June coup in the State Senate, and Van Capelle shifted his strategy toward lobbying senators for their return to session this fall.
A special session came and went without any action on the legislation being taken; there are no immediate plans for the Legislature to convene and deal with a burgeoning midyear deficit, so Van Capelle's statement may prove to be bluster.
("I think if they had the votes, there'd be a lot more clamoring to come back sooner," said Jason McGuire, who represents a conservative group that lobbies against marriage.)
The first week of the month has come and gone, and the second will also prove impossible: leaders of the Democratic conference are embarking on a trip to China. There's another senator, Hiram Monserrate, who may soon be convicted of a felony and be forced from his seat. The odds are tenuous, to say the least.
The hope is for the pro-marriage lobby to not lose the momentum they built up this legislative session. Van Capelle said lobbying efforts continue, and said more than 1,000 people have committed to attending his organization's fall dinner on Oct. 22, and that over $1 million has been raised. Senator Charles Schumer will give the keynote address.
"Our community is impatient and we are eager to see the senate come back and do the work that didn't take place for a month and a half of foolishness," Van Capelle said. "The time for finger-pointing, for name-calling has ended. The time to do the people's business has started. They have a month and a half worth of work to catch up on, among it marriage equality."
Austin Shafran, a spokesman for the Senate Democrats, would not say whether same-sex marriage would be taken up in October, saying it is "certainly under consideration, as are a number of other legislative priorities.'