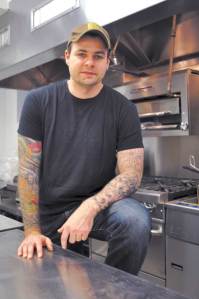 As a boy, growing up in the leafy enclave of Kent, Conn., Devon Gilroy exhibited all the signs of an obsessive-compulsive destined for a lonesome adulthood fraught with daily battles trying to control the uncontrollable. Ketchup was a big thing, early on—the mere sight of it was cause for alarm. Furthermore, everything had to be cooked all the way through. Different food groups could not be touching, not even a little. He was, his sister Grace told me, "the pickiest eater ever."
Collecting went beyond cards and comic books. By 10, young Devon was dog-paddling in strange waters.
Mr. Gilroy described discovering "these old black spoons at like a yard sale or something. I remember that I polished them and found that they were like silver. They had all these little things on them. Some of them had chips from the different countries. I remember cleaning them, [being] obsessed with them and I had them rolled up in these towels and I had them stored in my closet. I'd put them there and I'd forget about them but then I'd find another one and it was almost like rediscovering it again because I'd be like, 'Oh my God, I can't believe that I have this one.' And then it was organizing and cleaning them again. I had this idea that they were worth money."
Don't feel too bad for the little
fella: By 11 he was on to obsessing over a landscaping business. After a year or so of saving, he got a mini-tractor, took the business townwide and was raking it in. That's cool!
His mother, Mary Miscikoski, owned a small vintage clothing store. On weekends, his father, the legendary New York restaurant-nightclub operator Billy Gilroy—who began as the manager of Nell's and went on to operate and co-own Lucky Strike, the Match restaurants, Employees Only and Macao—would take young Devon to flea markets to outfit his latest endeavors. The spoons say it all: The boy's brain was wired to get stuck on a track and repeat.
At the age of 19, on a whim, he took a job as a fry cook at the Grey Dog cafe and discovered that something about the combination of chaos, camaraderie and the ever-elusive quest for perfection in a working kitchen appealed to him. Were it not for his fondness for routine, Devon Gilroy might have missed his calling.
"I very much like things to go a certain way," he said, "and sometimes when that pattern is broken—initially it drove me really crazy, but what cooking taught me is that you have to really let go of control. It's not controlling every situation all the time but it's controlling how you react to all those situations. So it has to be a very disciplined environment, because it can get very chaotic."
'He cooked for us and then some girls were there, and then after he was with the girls and then we asked him to—oh, no, I shouldn't.' —Artist Dirk Skreber
Now 25, Devon Gilroy is in the unusual position of being able to create his own controlled environment—outfitting his own kitchen, putting together a staff of about 25 people, designing his own menu—as head chef at the East Side Social Club on 51st Street, which is scheduled to open mid-November. The pressure is on.
THE VESTIGES OF an extreme personality are still there. Mr. Gilroy, whose torso and arms are covered in tattoos, has fixated on every element of the kitchen that falls under his domain: the kitchen, the menu, the staff. He's earned the trust not only of his father, a notoriously no-nonsense animal-beast businessman, but also of deep-pocketed friends who came on as investors (including notorious tightwad photographer Patrick McMullan, model Eva Herzigova and set designer Happy Massy, who is helping with the old-school Italian décor).
"I didn't invest before because I didn't have the money," said the artist Dirk Skreber, for whom Devon worked for as a personal chef. "Then later I have the money so I wrote the check."
Mr. Skreber said that he particularly enjoyed Mr. Gilroy's monkfish. Also that Devon was handsome, and that one time, "he cooked for us and then some girls were there, and then after he was with the girls and then we asked him to—oh, no, I shouldn't."