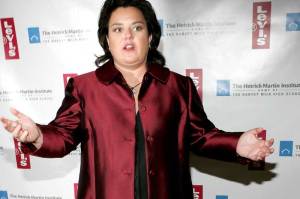 The unseasonable chill on the night of Thursday, Oct. 1, posed a sartorial challenge for those attending the premiere of Nora and Delia Ephron's new play, Love, Loss and What I Wore, based on the book by Ilene Beckerman: a paean to sartorial challenges and the life lessons they inspire. "This was not the first all-black outfit I tried on tonight," the elder Ephron sister (Nora) told the Transom.
The production, which the Ephrons describe as "The Vagina Monologues without the vaginas," is directed by Karen Carpenter and will feature a revolving Rolodex of actresses ranging from Rhea Perelman to Kristin Chenoweth. The first cast is the cozy quintet of Samantha Bee, Tyne Daly, Katie Finnerman, Natasha Lyonne and Rosie O'Donnell.
A discreet red carpet hugged the hip of the entrance to the Westside Theatre on 43rd Street.
Comedian Martin Short arrived in a dapper yet reserved black suit and rain-gray silk tie. "People keep asking me about my clothes," he told the Transom. "I don't have any stories about clothes. My wife dresses me." His wife, Nancy, added: "You've never met anyone who cares about clothes less than Marty. Actually, both of us don't really care about clothes. Put me in a good golf outfit and I'm happy."
A stalwart and squarely buxom Martha Stewart wore a box-shaped navy wool coat—very Paddington Bear. "So, Ms. Stewart, what do you think about Roman Polanski?" asked an Us Weekly reporter. Ms. Stewart responded with a signature, I-am-about-to-put-this-soupy-morass-in-the-oven-from-whence-it-will-emerge-a-perfectly-cooked-soufflé smile and glided wordlessly into the 250-seat theater.
Just when it seemed all the queen bees had been seated—wings folded, antennae ready—actor Harvey Fierstein lumbered into an aisle seat. "Sir, may I see your ticket?" joked composer Paul Libman, nearby. "No, but you can see other things," rasped Mr. Fierstein.
The subsequent monologues were a litany of confessions and clothing choices that somehow all led back to the wearer's mother or a failed romantic relationship. Age-old maxims such as "Never wear white after Labor Day" were replaced with dictates like "Never wear velvet before Rosh Hashanah." In unison, the five lamented a shopping rite of puberty: "The Bra!"
The Transom later asked Ms. O'Donnell about her first bra-shopping experience. "My mother had died and she left a training bra at the bottom of my dresser," she said without a trace of self-pity. "But by the time I found it, I was in seventh grade, which was long after I needed it. It was a size 28 and it cut into my back but I still wore it because I didn't know any better; there was no one around to tell me it didn't fit."
Afterward, during a party at the Bryant Park Grill, the cast formed an eager half-moon shape around a three-layer white icing cake, artfully iced to match the program cover. "Ah! Julia Child came back from heaven!" Ms. Beckerman gushed after her first mouthful.