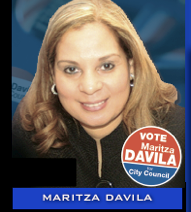 Eight candidates who lost in last month's Democratic primary have filed paperwork to buck the party and run in the general election on another party line.
The most intriguing, and personal, re-match is in Brooklyn's 34th District–covering Bushwick and East Williamsburg–where Maritza Davila is again challenging incumbent Diana Reyna. Ms. Davila lost to Ms. Reyna by about 200 votes–46 percent to 43 percent, with a third candidate picking up 11 percent.
Oddly, Ms. Davila is backed by the chair of the Brooklyn Democratic Party, Vito Lopez, who might just mobilize his considerable base of support against Ms. Reyna, even though she is the Democratic nominee. Ms. Reyna formerly served as chief of staff to Mr. Lopez, but the two have become rivals, and the county leader has made no secret of his opposition to his former aide.
Ms. Davila is running as the candidate of the Working Families Party, along with three other Democratic apostates, all of whom lost in close races where the winning candidates didn't muster 30 percent of the vote:
—In the 36th District, Mark Winston Griffith is keeping up the fight against incumbent Albert Vann, who got over 29 percent of the vote in the eight-way race. Mr. Griffith came in second with 23 percent.
—S.J. Jung placed third in District 20, but he was less than 200 votes behind the winner, Yen Chou. (Chou won with 25 percent of the vote to Jung's 22, with five people in the race.)
—Lynn Schulman lost to Karen Koslowitz by about 250 votes in District 29–26 percent to 23 percent in a six-person race.
The Working Families Party won big in the primary, but it's unclear how aggressive the party will be in the general election–especially if mayoral candidate Bill Thompson continues to lag in the polls–and whether the W.F.P. can siphon voters accustomed to voting the Democratic party line.
The non-W.F.P. candidates might have an even harder time. In the 45th Council District, the incumbent, Kendall Stewart, is re-entering the race as the nominee of the Independent Party. Mr. Stewart lost by 12 points and more than 1,000 votes to Jumaane Williams in a six-person race.
For the other three re-hopefuls, it might just be that the dream dies hard. Bob Friedrich and Ruben Wills each lost by 20 points in the primary. Ruben Dario Vargas lost by 55 percentage points.