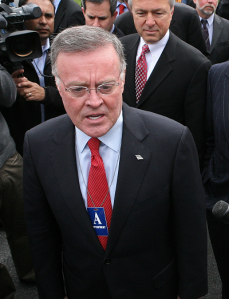 On Friday, just after Bank of America announced a billion-dollar loss in the third quarter, a deed in city records showed that the massive firm had sold off its corporate apartment in the Time Warner Center for $7.2 million. On the bright side, it cost $6.35 million to buy three years ago.
Especially on a dark afternoon like this one, you stare up at the twin-towered, 53-story, 2,800,000-square-foot, sharp-edged, nefariously shiny Time Warner Center and wonder what really goes on in the multimillion-dollar condos. According to James B. Stewart's 19,148-word epic on the financial world's collapse, it was in this Bank of America sprawl–on the north tower's 57th floor–that chief Ken Lewis met Merrill Lynch's John Thain on Saturday, Sept. 13, 2008, to talk about a merger.
They were alone. "I'm not interested in a 9.9-per-cent stake," Mr. Lewis reportedly said. "Well, I didn't come here to sell the company," Mr. Thain told him. "That's what I'm interested in," said Mr. Lewis. The companies merged. It did not go smoothly: Mr. Thain has resigned, and Mr. Lewis has announced he'll be leaving, too.
It's not clear if the apartment had been listed for sale. Its buyer is listed as a limited liability corporation called Tata Real Property. "Bank of America regularly reviews our real estate portfolio across the enterprise to ensure we are efficiently managing our portfolio," a spokesperson for Bank of America said, "and delivering cost saving results."
mabelson@observer.com